Honda Fit: Entering a New Destination

DEST button (when en route)
►DEST Menu 1 or DEST Menu 2
Enter a new destination using the Destination Menu screen even when you are en route.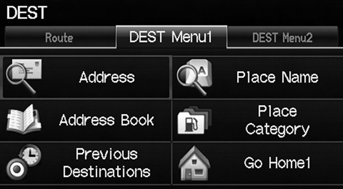 1. Select a method to enter a new destination.
► After entering a new destination, the address is displayed on the Calculate Route screen.
2. Select Set as Dest.

"Display Menu",


"Display Navigation"
3. Select an option.
► The route is automatically recalculated and displayed on the map screen.
The following options are available:
• Set as New Destination:
Sets the location as your new destination.
• Add to My Destination:
Sets the location as a new waypoint.
See also:
Emissions Testing
Testing of Readiness Codes Your vehicle uses "readiness codes," as part of its onboard self diagnostic system. Some states refer to these codes during testing to see if your vehicle's em ...
Oil Check
We recommend that you check the engine oil level every time you refuel. Park the vehicle on level ground. Wait approximately three minutes after turning the engine off before you check the oi ...
System Controls
...