Honda Fit: Entering a New Destination

DEST button (when en route)
►DEST Menu 1 or DEST Menu 2
Enter a new destination using the Destination Menu screen even when you are en route.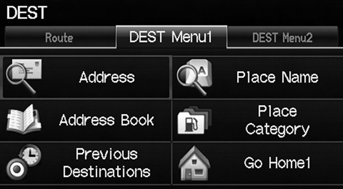 1. Select a method to enter a new destination.
► After entering a new destination, the address is displayed on the Calculate Route screen.
2. Select Set as Dest.

"Display Menu",


"Display Navigation"
3. Select an option.
► The route is automatically recalculated and displayed on the map screen.
The following options are available:
• Set as New Destination:
Sets the location as your new destination.
• Add to My Destination:
Sets the location as a new waypoint.
See also:
Gauges
TripMeter This meter shows the number of miles (U.S.) or kilometers (Canada) driven since you last reset it. There are two trip meters: Trip A and Trip B. Switch between these displays by pres ...
Installing a Child Seat
After selecting a proper child seat and a good place to install the seat, there are three main steps in installing the seat: 1. Properly secure the child seat to the vehicle. All child seats must ...
Lower Front Bumper Grille Replacement
Special Tools Required KTC Trim Tool Set SOJATP2014 *Available through the Honda Tool and Equipment Program; call 888-424-6857 With Front Fog Lights NOTE: Take care not to scratch ...