Honda Fit: Previous Destinations
DEST button
► Previous Destinations
Select an address from a list of your 50 most recent destinations to use as the destination. The list is displayed with the most recent destination at the top.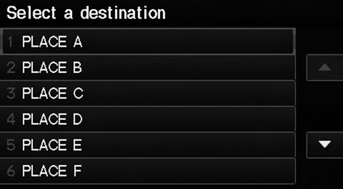 1. Select a destination from the list.
2. Set the route to your destination.
Your home addresses and addresses stored in your address book are not added to the list of previous destinations.
You can delete unwanted previous destinations from the list.
See also:
Wear Indicators
The groove where the wear indicator is located is 1/16 inch (1.6 mm) shallower than elsewhere on the tire. If the tread has worn so that the indicator is exposed, replace the tire. Worn out ti ...
Using Speed Dial
PHONE button ► Speed Dial 1 or Speed Dial 2 1. Select a speed dial entry. 2. Select Call to begin dialing. To make a call using speed dial, you need to create speed dial entries. More S ...
Adding Engine Oil
Unscrew and remove the engine oil fill cap on the valve cover. Pour in the oil slowly and carefully so you do not spill any. Clean up any spills immediately. Spilled oil could damage components ...