Honda Fit: Previous Destinations
DEST button
► Previous Destinations
Select an address from a list of your 50 most recent destinations to use as the destination. The list is displayed with the most recent destination at the top.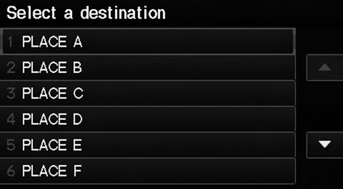 1. Select a destination from the list.
2. Set the route to your destination.
Your home addresses and addresses stored in your address book are not added to the list of previous destinations.
You can delete unwanted previous destinations from the list.
See also:
Resuming Your Trip
Stop your vehicle en route (e.g., to rest, stop for gas, etc.), and then continue on your route. If you did not complete your route, the Continue Trip screen is displayed when you restart you ...
Using the Phonebook
PHONE button ► Phonebook 1. Select a name.  Select alphabetical tabs to display the entries in the group. 2. Select a number. 3. Select Call to begin dialing. Up to three icons ...
System Controls
...