Honda Fit: Previous Destinations
DEST button
► Previous Destinations
Select an address from a list of your 50 most recent destinations to use as the destination. The list is displayed with the most recent destination at the top.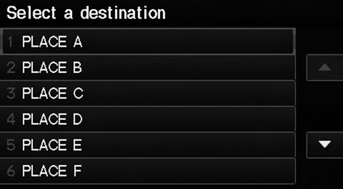 1. Select a destination from the list.
2. Set the route to your destination.
Your home addresses and addresses stored in your address book are not added to the list of previous destinations.
You can delete unwanted previous destinations from the list.
See also:
Secondary Shaft Disassembly, Inspection, and Reassembly (A/T)
Inspect the thrust needle bearings and the needle bearings for galling and rough movement. Inspect the splines for excessive wear and damage. Check the shaft bearing s ...
Crankshaft Main Bearing Replacement
Main Bearing Clearance Inspection Remove the bearing cap bridge, the main bearing caps, and main bearing halves. Clean each main journal and main bearing half with a clean s ...
Authorized Manuals
Purchasing Factory Authorized Manuals (U.S. onl The publications shown below can be purchased from Helm Incorporated. You can order by phone or online: • Call Helm Inc. at 1-800-782-4356 (credit ...