Honda Fit: Previous Destinations
DEST button
► Previous Destinations
Select an address from a list of your 50 most recent destinations to use as the destination. The list is displayed with the most recent destination at the top.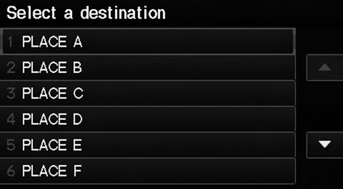 1. Select a destination from the list.
2. Set the route to your destination.
Your home addresses and addresses stored in your address book are not added to the list of previous destinations.
You can delete unwanted previous destinations from the list.
See also:
Valve Body and ATF Strainer Removal (A/T)
Remove the ATF feed pipe (A) from the regulator valve body (B). Remove the ATF feed pipes (C) (D) from the servo body (E). Remove the ATF strainer (F) (two bolts). ...
Transmission End Cover Selector Control Shaft Oil Seal Replacement (A/T)
Special Tools Required Driver Handle, 15 x 135L 07749-0010000 Bearing Driver Attachment, 22 x 24 mm 07746-0010800 Remove the oil seal from the end cover. Install the new oil ...
Windshield Washers
Check the fluid level in the windshield washer reservoir at least monthly during normal use. Check the fluid level by removing the cap and looking at the level gauge On Canadian models: The low ...