Honda Fit: Previous Destinations
DEST button
► Previous Destinations
Select an address from a list of your 50 most recent destinations to use as the destination. The list is displayed with the most recent destination at the top.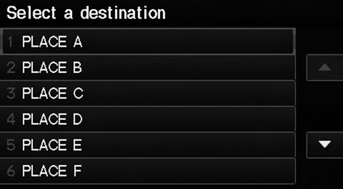 1. Select a destination from the list.
2. Set the route to your destination.
Your home addresses and addresses stored in your address book are not added to the list of previous destinations.
You can delete unwanted previous destinations from the list.
See also:
Overview of Contents
Contents A convenient reference to the sections in this manual. Your Vehicle at a Glance A quick reference to the main controls in your vehicle. Driver and Passenger Safety Important information ...
Cargo Area Light Test/Replacement
Open the tailgate. Carefully pry out the cargo area light (A). Cargo Area Light: 5 W @font-f ...
Inboard Joint Side
Remove the boot bands. Be careful not to damage the boot. If the boot band is welded type (A), cut the boot band. If the boot band is a double loop type (B), lift up the ban ...