Honda Fit: Previous Destinations
DEST button
► Previous Destinations
Select an address from a list of your 50 most recent destinations to use as the destination. The list is displayed with the most recent destination at the top.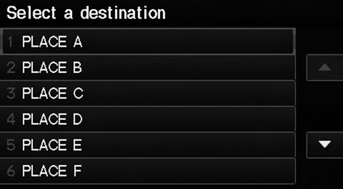 1. Select a destination from the list.
2. Set the route to your destination.
Your home addresses and addresses stored in your address book are not added to the list of previous destinations.
You can delete unwanted previous destinations from the list.