Honda Fit: Correct Vehicle Position
INFO button
► Setup ►Other ►Vehicle
Manually adjust the current position of the vehicle as displayed on the map screen if the position appears to be incorrect.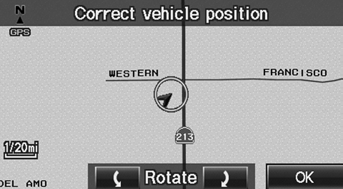 1. Put the vehicle in Park.
2. Select ADJUST under Current Vehicle Position.
3. Scroll the map to position the arrowhead at your correct position.
4. Select

or


to position the
arrowhead in the correct direction the vehicle is facing.
5. Select OK.
An apparent position error can occur where buildings, tunnels, and other objects block or reflect the GPS signals, forcing the system to use "dead reckoning" to determine your location and direction.
Using this function to adjust vehicle position is not recommended. When the system reacquires a GPS signal, it will automatically place the vehicle in the correct location.
If you continually have to adjust the vehicle position, you may have problems with the GPS reception or there may be database errors.
See also:
Fuel Information
■ Fuel recomme Unleaded gasoline, pump octane number 87 or higher Use of lower octane gasoline can cause a persistent, heavy metallic knocking noise that can lead to engine damage. ■ ...
Inspecting and Changing Fuses
1. Turn the ignition switch to LOCK . Turn headlights and all accessories off. 2. Check the fuses in the engine compartment. ► If the fuse is blown, have it replaced by a dealer. 3. I ...
Tailgate Spoiler Replacement
Special Tools Required KTC Trim Tool Set SOJATP2014 *Available through the Honda Tool and Equipment Program; call 888-424-6857 For Some Models NOTE: Take care not to scratch the bo ...