Honda Fit: Correct Vehicle Position
INFO button
► Setup ►Other ►Vehicle
Manually adjust the current position of the vehicle as displayed on the map screen if the position appears to be incorrect.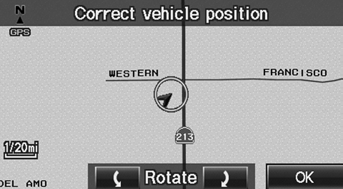 1. Put the vehicle in Park.
2. Select ADJUST under Current Vehicle Position.
3. Scroll the map to position the arrowhead at your correct position.
4. Select

or


to position the
arrowhead in the correct direction the vehicle is facing.
5. Select OK.
An apparent position error can occur where buildings, tunnels, and other objects block or reflect the GPS signals, forcing the system to use "dead reckoning" to determine your location and direction.
Using this function to adjust vehicle position is not recommended. When the system reacquires a GPS signal, it will automatically place the vehicle in the correct location.
If you continually have to adjust the vehicle position, you may have problems with the GPS reception or there may be database errors.
See also:
Authorized Manuals
Purchasing Factory Authorized Manuals (U.S. onl The publications shown below can be purchased from Helm Incorporated. You can order by phone or online: • Call Helm Inc. at 1-800-782-4356 (credit ...
Pilot Bearing Replacement
Remove the crankshaft pilot bearing (A) using the remover weight (B), and the 15 mm bearing remover shaft set (C). Install a new pilot bearing (A) into the crankshaft using th ...
Tire Rotation
Rotating tires according to the Maintenance Minder message on the information display helps to distribute wear more evenly and increase tire life. ■ Tires without rotation marks Rotate the ...