Honda Fit: Correct Vehicle Position
INFO button
► Setup ►Other ►Vehicle
Manually adjust the current position of the vehicle as displayed on the map screen if the position appears to be incorrect.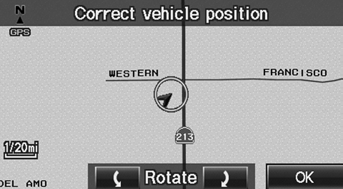 1. Put the vehicle in Park.
2. Select ADJUST under Current Vehicle Position.
3. Scroll the map to position the arrowhead at your correct position.
4. Select

or


to position the
arrowhead in the correct direction the vehicle is facing.
5. Select OK.
An apparent position error can occur where buildings, tunnels, and other objects block or reflect the GPS signals, forcing the system to use "dead reckoning" to determine your location and direction.
Using this function to adjust vehicle position is not recommended. When the system reacquires a GPS signal, it will automatically place the vehicle in the correct location.
If you continually have to adjust the vehicle position, you may have problems with the GPS reception or there may be database errors.
See also:
iPod® Commands
iPod play iPod play track # (#: 1 to 30) iPod skip forward iPod skip back iPod track shuffle* iPod album shuffle* iPod track repeat* iPod normal play (cancels repeat or shuffle * These comman ...
ATF Cooler Cleaning (A/T)
Special Tools Required ATF Cooler Cleaner GHTTTCF6H Magnetic Nonbypass Spin-On Filter GTHGNBP2 *: Available through the Honda Tool and Equipment Program 888-424-6857. Before installing an ...
Crankshaft Main Bearing Replacement
Main Bearing Clearance Inspection Remove the bearing cap bridge, the main bearing caps, and main bearing halves. Clean each main journal and main bearing half with a clean s ...