Honda Fit: Correct Vehicle Position
INFO button
► Setup ►Other ►Vehicle
Manually adjust the current position of the vehicle as displayed on the map screen if the position appears to be incorrect.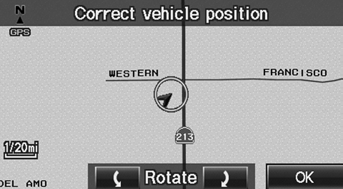 1. Put the vehicle in Park.
2. Select ADJUST under Current Vehicle Position.
3. Scroll the map to position the arrowhead at your correct position.
4. Select

or


to position the
arrowhead in the correct direction the vehicle is facing.
5. Select OK.
An apparent position error can occur where buildings, tunnels, and other objects block or reflect the GPS signals, forcing the system to use "dead reckoning" to determine your location and direction.
Using this function to adjust vehicle position is not recommended. When the system reacquires a GPS signal, it will automatically place the vehicle in the correct location.
If you continually have to adjust the vehicle position, you may have problems with the GPS reception or there may be database errors.
See also:
Rear Seat Leg Guide Replacement
Push the leg guide cover (A) to release the hook (B), then pull out the cover from the attaching plate (C) and the holder (D) of the leg guide (E). @font-fa ...
Oil Check
We recommend that you check the engine oil level every time you refuel. Park the vehicle on level ground. Wait approximately three minutes after turning the engine off before you check the oi ...
Windshield Replacement
NOTE: Put on gloves to protect your hands. Wear eye protection while cutting the glass adhesive with a piano wire. Use seat covers to avoid damaging any surface. Glass a ...