Honda Fit: Display and Volume Settings
INFO button
► Setup
Use the Main Setup screen to adjust the display and volume.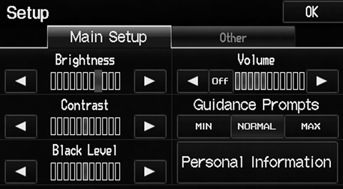 Select
or

to adjust the desired
item.
The following items are available: • Brightness
: Adjusts the screen's brightness.
• Contrast
: Adjusts the screen's contrast.
• Black
Level
: Adjusts the screen's black level.
• Volume
: Adjusts the navigation system volume level.
You can set separate daytime and nighttime settings for Brightness, Contrast, and Black Level. Adjust each setting when the display is in either daytime or nighttime mode.
You can set the display and volume settings using voice commands.
Volume

If you set Volume to Off, you will not hear route guidance or voice command confirmations. If you then select VOICE on the map menu, you will hear route guidance at the default volume.
See also:
Fuel Economy
Actual Mileage and EPA Fuel Economy Estimates Comparison. Fuel economy is not a fixed number. It varies based on driving conditions, driving habits and vehicle condition. Therefore, it is not possi ...
Radio Theft Protection
Your vehicle's audio system will disable itself if it is disconnected from electrical power for any reason. To make it work again, you must enter a specific five-digit code in the preset button ...
Spelling Assistance
The voice control system can also recognize phonetic alphabet input for numbers, letters, accented letters, punctuation marks, and symbols. NOTE: When selecting letters using the voice control s ...