Honda Fit: Authorized Manuals
■ Service Express
For electronic copies of service publications, you can purchase a subscription to Service Express. Visit www.techinfo.honda.com for pricing and options.
■ For U.S. Owners:
The publications listed below can be purchased from Helm Incorporated. You can order a manual by phone at (800) 782-4356 (credit card orders only), or online at www.helminc.com.
Make an inquiry to Helm Inc. at (800) 782-4356 if you are interested in ordering other models' or other years' manuals.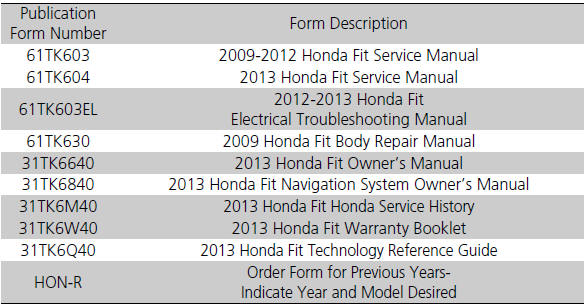 Service Manual:
Covers maintenance and recommended procedures for repair to engine and chassis components. It is written for the journeyman technician, but it is simple enough for most mechanically inclined owners to understand.
Electrical Troubleshooting Manual:
Complements the Service Manual by providing indepth troubleshooting information for each electrical circuit in your vehicle.
Body Repair Manual:
Describes the procedures involved in the replacement of damaged body parts.
For Canadian Owners:
Si vous avez besoin d'un Manuel du Conducteur en français, veuillez demander à votre concessionnaire de commander le numéro de pièce 33TK6C40
See also:
Seat Belt Inspection
Out of Vehicle For front seat belt retractors with seat belt tensioners, review the SRS component locations and the precautions and procedures before doing repairs or serv ...
Fuel Economy
Actual Mileage and EPA Fuel Economy Estimates Comparison. Fuel economy is not a fixed number. It varies based on driving conditions, driving habits and vehicle condition. Therefore, it is not possi ...
Front Seat-Back Cover/Pad Replacement (Part -1)
Special Tools Required KTC Trim Tool Set SOJATP2014 *Available through the Honda Tool and Equipment Program; call 888-424-6857 SRS components are located in this area. Review the SRS c ...