Honda Fit: Remote Transmitter Care
Replacing the Battery
If the indicator does not come on when the button is pressed, replace the battery.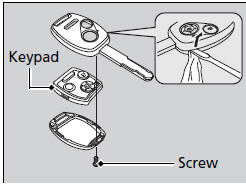 Battery type: CR1616
1. Unscrew the cover with a small Phillipshead screwdriver.
► Wrap the small flat-tip screwdriver with a cloth to prevent scratching the transmitter.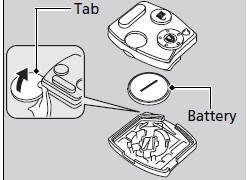 2. Open the keypad.
► Wrap a coin with a cloth to prevent scratching the transmitter.
3. Make sure to replace the battery with the correct polarity.
NOTICE
An improperly disposed of battery can damage the environment. Always confirm local regulations for battery disposal.
Replacement batteries are commercially available or at a dealer.
See also:
Steering Rack Guide Adjustment
Special Tools Required Locknut Wrench, 40 mm 07MAA-SL00100, 07916-SA50001, or 07AAA-TL2A100 Set the wheels in the straight ahead position. Loosen the rack guide screw locknut ...
Clutch Disc and Pressure Plate Installation
Temporarily install the clutch disc onto the splines of the transmission mainshaft. Make sure the clutch disc slides freely on the mainshaft. Apply a light coat of super high temp ...
Ball Joint Boot Inspection/Replacement
Special Tools Required Bearing Driver Attachment, 40 mm 07GAF-SE00200 Check the ball joint boot for weakness, damage, cracks, and grease leaks. NOTE: If the ball joint boot is ...