Honda Fit: Remote Transmitter Care
Replacing the Battery
If the indicator does not come on when the button is pressed, replace the battery.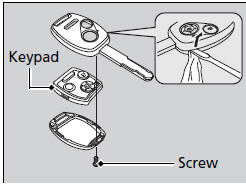 Battery type: CR1616
1. Unscrew the cover with a small Phillipshead screwdriver.
► Wrap the small flat-tip screwdriver with a cloth to prevent scratching the transmitter.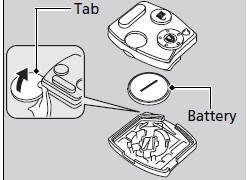 2. Open the keypad.
► Wrap a coin with a cloth to prevent scratching the transmitter.
3. Make sure to replace the battery with the correct polarity.
NOTICE
An improperly disposed of battery can damage the environment. Always confirm local regulations for battery disposal.
Replacement batteries are commercially available or at a dealer.
See also:
Accessories
When installing accessories, check the following: • Do not install accessories on the windshield. They can obstruct your view and delay your reaction to driving conditions. • Do not install acc ...
Fuel Information
■ Fuel recomme Unleaded gasoline, pump octane number 87 or higher Use of lower octane gasoline can cause a persistent, heavy metallic knocking noise that can lead to engine damage. ■ ...
Rear Seat Control Cable Replacement
NOTE: Take care not to tear or damage the seat covers. Put on gloves to protect your hands. Take care not to kink the cable. The left rear seat is shown, the right rear ...