Honda Fit: Remote Transmitter Care
Replacing the Battery
If the indicator does not come on when the button is pressed, replace the battery.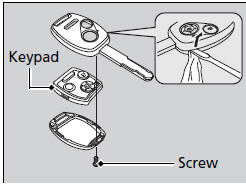 Battery type: CR1616
1. Unscrew the cover with a small Phillipshead screwdriver.
► Wrap the small flat-tip screwdriver with a cloth to prevent scratching the transmitter.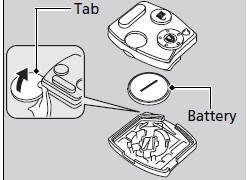 2. Open the keypad.
► Wrap a coin with a cloth to prevent scratching the transmitter.
3. Make sure to replace the battery with the correct polarity.
NOTICE
An improperly disposed of battery can damage the environment. Always confirm local regulations for battery disposal.
Replacement batteries are commercially available or at a dealer.
See also:
Inspection and Maintenance
For your safety, perform all listed inspections and maintenance to keep your vehicle in good condition. If you become aware of any abnormality (noise, smell, insufficient brake fluid, oil residu ...
A/T System Description - Lock-Up System (A/T)
Lock-up SystemThe lock-up mechanism of the torque converter clutch operates in all five gears in D, in 3rd gear in D3, and 3rd and 4th gears in S with the automatic shift mode. The pressurize ...
Auxiliary Input Jack
U.S. Sport and all Canadian models The auxiliary input jack is underneath the accessory power socket in the center pocket. The system will accept auxiliary input from standard audio accessories. ...