Honda Fit: Remote Transmitter Care
Replacing the Battery
If the indicator does not come on when the button is pressed, replace the battery.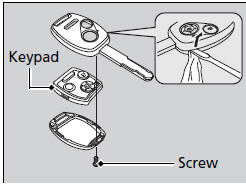 Battery type: CR1616
1. Unscrew the cover with a small Phillipshead screwdriver.
► Wrap the small flat-tip screwdriver with a cloth to prevent scratching the transmitter.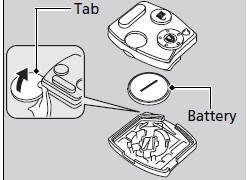 2. Open the keypad.
► Wrap a coin with a cloth to prevent scratching the transmitter.
3. Make sure to replace the battery with the correct polarity.
NOTICE
An improperly disposed of battery can damage the environment. Always confirm local regulations for battery disposal.
Replacement batteries are commercially available or at a dealer.
See also:
Tailgate Adjustment
NOTE: Have an assistant help you when adjusting the tailgate. Take care not to scratch the tailgate, the body or other related parts. Put on gloves to protect your hands. ...
Audio Remote Controls
Steering Wheel Controls Control basic audio system functions using the controls mounted on the steering wheel. ■MODE Button Cycles through the audio modes as follows: DISC mode appear ...
Charging System Indicator
If the charging system indicator comes on brightly when the engine is running, the battery is not being charged. Immediately turn off all electrical accessories. Try not to use other electrically ...