Honda Fit: Remote Transmitter Care
Replacing the Battery
If the indicator does not come on when the button is pressed, replace the battery.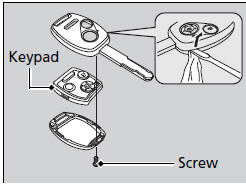 Battery type: CR1616
1. Unscrew the cover with a small Phillipshead screwdriver.
► Wrap the small flat-tip screwdriver with a cloth to prevent scratching the transmitter.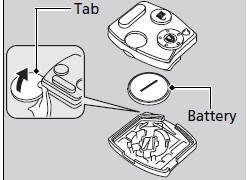 2. Open the keypad.
► Wrap a coin with a cloth to prevent scratching the transmitter.
3. Make sure to replace the battery with the correct polarity.
NOTICE
An improperly disposed of battery can damage the environment. Always confirm local regulations for battery disposal.
Replacement batteries are commercially available or at a dealer.
See also:
Engine Coolant
Specified coolant: Honda Long Life Antifreeze/Coolant Type 2 This coolant is premixed with 50% antifreeze and 50% water. Do not add any straight antifreeze or water. We recommend you check the en ...
Adjust Time
INFO button ► Setup ►Other ►Clock Adjustment►Clock Adjustment Adjust the current time (hours and minutes). 1. Select or to adjust the value. 2. Select OK on the top ...
Dashboard Vent Removal/Installation
Side Vent Click here for an interactive version of this procedure (driver's, passenger's). NOTE: Take care not to scratch the dashboard or its related parts. Pull the upper portion ( ...