Honda Fit: Remote Transmitter Care
Replacing the Battery
If the indicator does not come on when the button is pressed, replace the battery.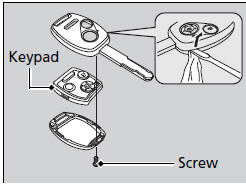 Battery type: CR1616
1. Unscrew the cover with a small Phillipshead screwdriver.
► Wrap the small flat-tip screwdriver with a cloth to prevent scratching the transmitter.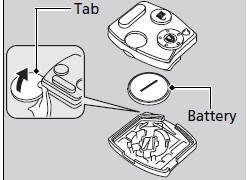 2. Open the keypad.
► Wrap a coin with a cloth to prevent scratching the transmitter.
3. Make sure to replace the battery with the correct polarity.
NOTICE
An improperly disposed of battery can damage the environment. Always confirm local regulations for battery disposal.
Replacement batteries are commercially available or at a dealer.
See also:
Registering a Voice Tag to a Speed Dial Entry
PHONE button ► Speed Dial 1 or Speed Dial 2 1. Select a speed dial entry. 2. Select Edit Speed Dial. 3. Select Voice Tag. 4. Follow the prompt to enter a voice tag. Voice tags allow ...
Disassembly
Compress the damper spring, then remove the nut (A) while holding the damper shaft with a hex wrench (B). Do not compress the damper spring more than necessary to remove the nut. ...
Audio System Description
Overview The audio-navigation unit or audio unit acts as the processor for all audio functions. To select audio functions, use one of the following inputs: Audio-navigation unit or a ...