Honda Fit: Remote Transmitter Care
Replacing the Battery
If the indicator does not come on when the button is pressed, replace the battery.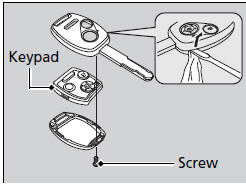 Battery type: CR1616
1. Unscrew the cover with a small Phillipshead screwdriver.
► Wrap the small flat-tip screwdriver with a cloth to prevent scratching the transmitter.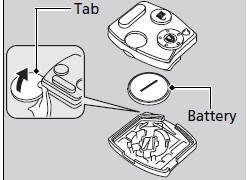 2. Open the keypad.
► Wrap a coin with a cloth to prevent scratching the transmitter.
3. Make sure to replace the battery with the correct polarity.
NOTICE
An improperly disposed of battery can damage the environment. Always confirm local regulations for battery disposal.
Replacement batteries are commercially available or at a dealer.
See also:
Airbag Care
You do not need to, and should not, perform any maintenance on or replace any airbag system components yourself. However, you should have your vehicle inspected by a dealer in the following situatio ...
Power Mirror Actuator Replacement
Removal Remove these items: Mirror holder Power mirror Record the power mirror connector terminals location and the wire harness colors. ...
Warm Up TWC Removal/Installation
NOTE: If the warm up TWC is damaged internally, inspect the under-floor TWC for debris. Raise the vehicle on a lift. Remove the bolts (A). Lower the vehicle. ...