Honda Fit: Remote Transmitter Care
Replacing the Battery
If the indicator does not come on when the button is pressed, replace the battery.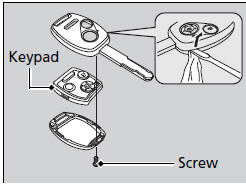 Battery type: CR1616
1. Unscrew the cover with a small Phillipshead screwdriver.
► Wrap the small flat-tip screwdriver with a cloth to prevent scratching the transmitter.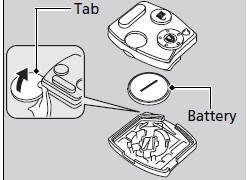 2. Open the keypad.
► Wrap a coin with a cloth to prevent scratching the transmitter.
3. Make sure to replace the battery with the correct polarity.
NOTICE
An improperly disposed of battery can damage the environment. Always confirm local regulations for battery disposal.
Replacement batteries are commercially available or at a dealer.
See also:
AM/FM Radio Reception
Radio Frequencies The radio can receive the complete AM and FM bands. Those bands cover these frequencies: AM band: 530 to 1,710 kHz FM band: 87.7 to 107.9 MHz Radio stations on the AM band are a ...
Information
This chapter includes your vehicle's specifications, locations of identification numbers, and other information required by regulation. ...
PCV
Fuel and Emissions System Description - PCV System Positive Crankcase Ventilation (PCV) System The PCV valve prevents blow-by gasses from escaping into the atmosphere by venting them into the ...