Honda Fit: Checking the Battery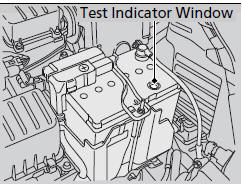 Check the battery condition monthly. Look at the test indicator window and check the terminals for corrosion.
If your vehicle's battery is disconnected or goes dead: • The audio system* is disabled.
• The clock resets.
• The navigation system* is disabled.
See also:
Engine Assembly Torque Rod Bracket Replacement
Raise the vehicle on the lift. A/T model: Remove the shift cable cover. Support the transmission with a transmission jack and a wood block under the transmission a ...
Fuel Tank Draining
Remove the fuel tank unit. Using a hand pump, a hose, and a container suitable for fuel, draw the fuel from the fuel tank. Reinstall the fuel tank unit. ...
Rear Seat-Back Cover/Pad Replacement
Special Tools Required KTC Trim Tool Set SOJATP2014 *Available through the Honda Tool and Equipment Program; call 888-424-6857 NOTE: Use the appropriate tool from the KTC trim to ...