Honda Fit: Checking the Battery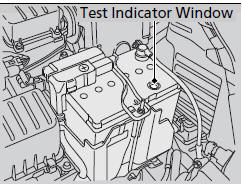 Check the battery condition monthly. Look at the test indicator window and check the terminals for corrosion.
If your vehicle's battery is disconnected or goes dead: • The audio system* is disabled.
• The clock resets.
• The navigation system* is disabled.
See also:
Transmission End Cover Air Check Valve Inspection and Replacement (A/T)
NOTE: There are two types of the transmission end cover; the type A and the type B; and both types are available. The differences between the types A and B of the end covers are: ...
Front Brake Pad Inspection and Replacement
Special Tools Required Brake Caliper Piston Compressor 07AAE-SEPA101 caution Frequent inhalation of brake pad dust, regardless of material composition, could be h ...
A FewWordsAbout Safety
Your safety, and the safety of others, is very important. And operating this vehicle safely is an important responsibility. To help you make informed decisions about safety, we have provided operat ...