Honda Fit: Parking/Side Marker Light Bulbs
When replacing, use the following bulbs.
Parking/Side Marker Light: 3.8 W (Amber)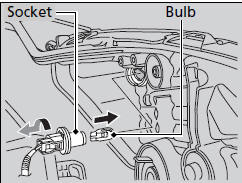 1. Turn the socket to the left and remove it.
2. Remove the old bulb and insert a new bulb
See also:
Alternator Brush Inspection
Measure the length of both brushes (A) with a vernier caliper: If either brush is shorter than the service limit, replace the brushes, go to step 20. If brush length ...
Transmission Side - Release Bearing Installation
Apply high temp urea grease (P/N 08798-9002) to the release fork (A), the release fork bolt (B), the release bearing (C), and the release bearing guide (D) in the shaded areas, then set th ...
Rear Inner Fender Replacement
NOTE: Put on gloves to protect your hands. Take care not to scratch the body. Remove the screws (A) and the clips (B, C), then remove the rear inner fender (D). NOTE: T ...