Honda Fit: Playing a USB Flash Drive
Your audio system reads and plays sound files on a USB flash drive in either MP3, WMA or AAC*1 format.
Connect your USB flash drive to the USB adapter cable, then press the AUX button.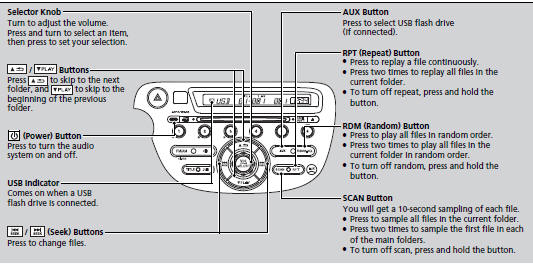 *1:Only AAC format files recorded with iTunes® are playable on this unit.
■How to Select a File from a Folder with the Selector Knob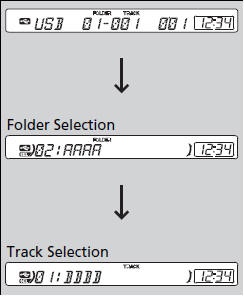 1. Press

to switch the display
to a folder list.
2. Rotate

to select a folder.

3. Press

to change the display to a
list of files in that folder.
4. Rotate

to select a file, then
press

.
Use the recommended USB flash drives.
Files in WMA format protected by digital rights management (DRM) are not played.
The audio system displays UNPLAYABLE FILE, and then skips to the next file.
If there is a problem, you may see an error message on the audio display.
See also:
Emissions Testing
Testing of Readiness Codes If you take your vehicle for an emissions test shortly after the battery has been disconnected or gone dead, it may not pass the test. This is because of certain ''r ...
Paint Code
Code Color USA models Canada models NH-578 Taffeta White 0 0 ...
PCV
Fuel and Emissions System Description - PCV System Positive Crankcase Ventilation (PCV) System The PCV valve prevents blow-by gasses from escaping into the atmosphere by venting them into the ...