Honda Fit: USB Adapter Cable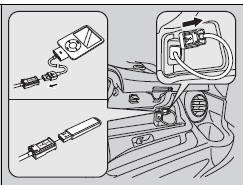 1. Unclip the USB connector and loosen the adapter cable.
2. Install the iPod® dock connector or the USB flash drive to the USB connector.
• Do not leave the iPod® or USB flash drive in the vehicle. Direct sunlight and high temperatures may damage it.
• Do not use an extension cable with the USB adapter cable.
• Do not connect the iPod® or USB flash drive using a hub.
• Do not use a device such as a card reader or hard disk drive, as the device or your files may be damaged.
• We recommend backing up your data before using the device in your vehicle.
• Displayed messages may vary depending on the device model and software version.
If the audio system does not recognize the iPod®, try reconnecting it a few times or reboot the device. To reboot, follow the manufacturer's instructions provided with the iPod® or visit www.apple.com/ ipod.
See also:
VIN, Engine, (Motor), Transmission Numbers, and Paint Codes
Vehicle Identification Number a. Manufacturer, Make, and Type of Vehicle JHM: Honda Motor Co., Ltd. Honda passe ...
Voice Control System
Your vehicle has a voice control system that allows hands-free operation of most of the navigation system functions. You can also control the audio system, and make and receive phone calls using B ...
Brake System Indicator
Brake System Indicator (Red) The brake system indicator (red) normally comes on when you turn the ignition switch to the ON (II) position, and as a reminder to check the parking brake. It will ...