Honda Fit: USB Adapter Cable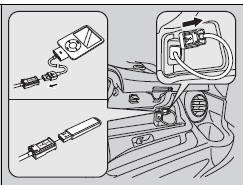 1. Unclip the USB connector and loosen the adapter cable.
2. Install the iPod® dock connector or the USB flash drive to the USB connector.
• Do not leave the iPod® or USB flash drive in the vehicle. Direct sunlight and high temperatures may damage it.
• Do not use an extension cable with the USB adapter cable.
• Do not connect the iPod® or USB flash drive using a hub.
• Do not use a device such as a card reader or hard disk drive, as the device or your files may be damaged.
• We recommend backing up your data before using the device in your vehicle.
• Displayed messages may vary depending on the device model and software version.
If the audio system does not recognize the iPod®, try reconnecting it a few times or reboot the device. To reboot, follow the manufacturer's instructions provided with the iPod® or visit www.apple.com/ ipod.
See also:
Audio Remote Controls
Steering Wheel Controls Control basic audio system functions using the controls mounted on the steering wheel. ■MODE Button Cycles through the audio modes as follows: DISC mode appear ...
Unverified Area Routing
INFO button ► Setup ►Other ►Routing & Guidance Receive turn-by-turn map and voice guidance in unverified areas. Select On or Off. Unverified roads are found in rural ar ...
Address Book
DEST button ► Address Book Select an address stored in your address book to use as the destination. 1. Select your user name. 2. Select your destination from the list. 3. Set the rout ...