Honda Fit: USB Adapter Cable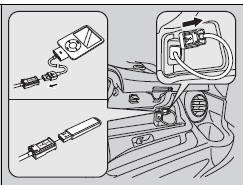 1. Unclip the USB connector and loosen the adapter cable.
2. Install the iPod® dock connector or the USB flash drive to the USB connector.
• Do not leave the iPod® or USB flash drive in the vehicle. Direct sunlight and high temperatures may damage it.
• Do not use an extension cable with the USB adapter cable.
• Do not connect the iPod® or USB flash drive using a hub.
• Do not use a device such as a card reader or hard disk drive, as the device or your files may be damaged.
• We recommend backing up your data before using the device in your vehicle.
• Displayed messages may vary depending on the device model and software version.
If the audio system does not recognize the iPod®, try reconnecting it a few times or reboot the device. To reboot, follow the manufacturer's instructions provided with the iPod® or visit www.apple.com/ ipod.
See also:
Transmission End Cover ATF Feed Pipe Replacement (A/T)
Remove the snap ring (A), the 3rd clutch feed pipe (B), and the feed pipe flange (C) from the end cover (D). Install a new O-ring (E) over the 3rd clutch feed pipe. In ...
If the Malfunction Indicator Lam Comes On or Blinks
■ Reasons for indicator lamp to come on or blink • Comes on when there is a problem with the engine emissions control system, or the fuel fill cap is missing, or loose. • Blinks when en ...
Tailgate Spoiler Replacement
Special Tools Required KTC Trim Tool Set SOJATP2014 *Available through the Honda Tool and Equipment Program; call 888-424-6857 For Some Models NOTE: Take care not to scratch the bo ...