Honda Fit: USB Adapter Cable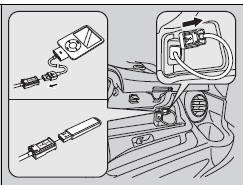 1. Unclip the USB connector and loosen the adapter cable.
2. Install the iPod® dock connector or the USB flash drive to the USB connector.
• Do not leave the iPod® or USB flash drive in the vehicle. Direct sunlight and high temperatures may damage it.
• Do not use an extension cable with the USB adapter cable.
• Do not connect the iPod® or USB flash drive using a hub.
• Do not use a device such as a card reader or hard disk drive, as the device or your files may be damaged.
• We recommend backing up your data before using the device in your vehicle.
• Displayed messages may vary depending on the device model and software version.
If the audio system does not recognize the iPod®, try reconnecting it a few times or reboot the device. To reboot, follow the manufacturer's instructions provided with the iPod® or visit www.apple.com/ ipod.
See also:
Transmission Side - Release Bearing Inspection
Check the play of the release bearing by spinning it by hand. If there is excessive play or noise, replace the release bearing. NOTE: The release bearing is packed with grease. Do not ...
Breather Line and Suction Line Inspection (Page-2)
Attach the fuel pressure gauge attachment. Then connect the vacuum pump/gauge (A) to the suction line (B), and apply vacuum to the line: If the line holds vacuum, check for a blocka ...
Parking Brake Lever Replacement
Release the parking brake lever fully. Remove the center console. Disconnect the parking brake switch connector (A) from the parking brake switch (B). ...