Honda Fit: Interior Convenience
Glove Box
Pull the handle to open the glove box.
WARNING
An open glove box can cause serious injury to your passenger in a crash, even if the passenger is wearing the seat belt.
Always keep the glove boxes closed while driving.
Upper Glove Box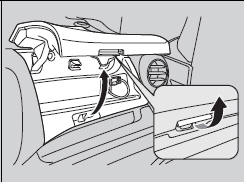 Pull up on the lever to open the upper glove box.
Beverage Holders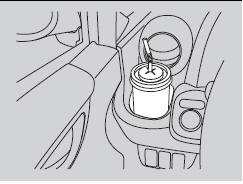 ■ Front seat beverage holders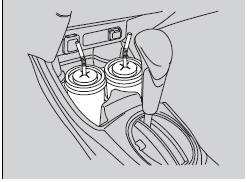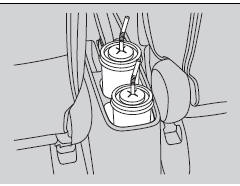 ■ Rear seat beverage holders
NOTICE
Spilled liquids can damage the upholstery, carpeting, and electrical components in the interior.
Be careful when you are using the beverage holders.
Hot liquid can scald you.
Cargo Floor Box*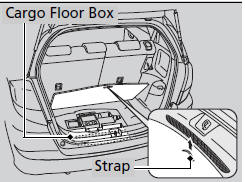 Pull up the strap and open the cargo area floor lid.
Accessory Power Socket
The accessory power socket can be used when the ignition switch is in ACCESSORY

or ON


.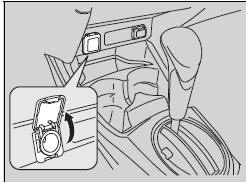 Open the cover to use it.
NOTICE
Do not insert an automotive type cigarette lighter element.
This can overheat the power socket.
The accessory power socket is designed to supply power for 12 volt DC accessories that are rated 120 watts or less (10 amps).
To prevent battery drain, only use the power socket with the engine running.
Coat Hook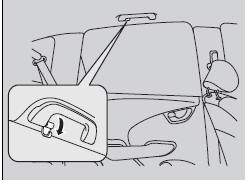 There is a coat hook on the rear left grab handle. Pull it down to use it.
The coat hook is not designed for large or heavy items.
Seat Under Box
Located at the back of the driver's side rear seat cushion.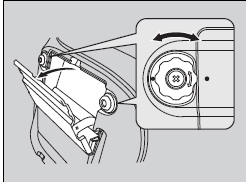 1. Fold up the driver's side rear seat.
2. Turn the knobs to open the box. Align the dot marks on the knobs and the box cover when closing the box.
Cargo Hooks*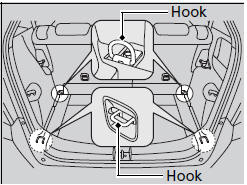 Use floor cargo hooks to secure luggage in the cargo area.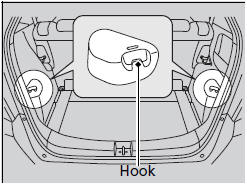 There are also hooks on both sides of the cargo area.
NOTICE
Do not hang a large object or an object that weighs more than 2.2 lbs (1 kg) on the side cargo hooks.
Hanging heavy or large objects may damage the hooks.
See also:
Output Shaft (Countershaft) Speed Sensor Replacement (M/T)
M/T Raise the vehicle on a lift. Disconnect the output shaft (countershaft) speed sensor connector (A). Remove the output shaft (countershaft) speed sensor (B). ...
Inspection
Raise and support the vehicle. Remove the front wheels. Check the thickness (A) of the inner pad (B) and the outer pad (C). Do not include the thickness of the back ...
Cam Chain Removal
NOTE: Keep the cam chain away from magnetic fields. Turn the crankshaft pulley so its top dead center (TDC) mark (A) lines up with the pointer (B). Remove the cylinder he ...