Honda Fit: Authorized Manuals
Purchasing Factory Authorized Manuals (U.S. onl
The publications shown below can be purchased from Helm Incorporated. You can order by phone or online: • Call Helm Inc. at 1-800-782-4356 (credit card orders only) • Go online at www. helminc. com
If you are interested in other years or models, contact Helm Inc. at 1-800-782-4356.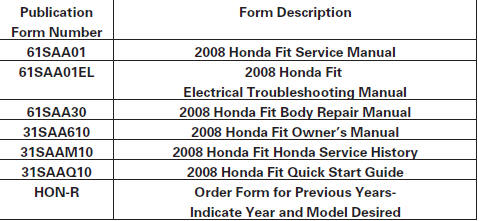 Service Manual:

Covers maintenance and recommended procedures for repair to engine and chassis components. It is written for the journeyman mechanic, but it is simple enough for most mechanically inclined owners to understand.
Electrical Troubleshooting Manual:
Complements the Service Manual by providing in-depth troubleshooting information for each electrical circuit in your vehicle.
Body Repair Manual:
Describes the procedures involved in the replacement of damaged body parts.
See also:
Torque Converter Housing Selector Control Shaft Oil Seal Replacement (A/T)
Special Tools Required Driver Handle, 15 x 135L 07749-0010000 Oil Seal Driver Attachment 07947-ZV00100 Remove the oil seal from the torque converter housing. Install the n ...
Special Tools Required
Mainshaft Holder 07GAB-PF50101 Remove the bolts securing the ATF inlet line (D) and ATF filter holder (E), the line bolt and sealing washers, and remove the ATF inlet line, ATF hose, ...
Changing a Flat Tire
If you have a flat tire while driving, stop in a safe place to change it. Drive slowly along the shoulder until you get to an exit or an area to stop that is far away from the traffic lanes. The ...