Honda Fit: Three Way Catalytic Converter
The three way catalytic converter contains precious metals that serve as catalysts, promoting chemical reactions to convert the exhaust gasses without affecting the metals.
The catalytic converter is referred to as a three-way catalyst, since it acts on HC, CO, and NOx. A replacement unit must be an original Honda part or its equivalent.
The three way catalytic converter must operate at a high temperature for the chemical reactions to take place. It can set on fire any combustible materials that come near it. Park your vehicle away from high grass, dry leaves, or other flammables.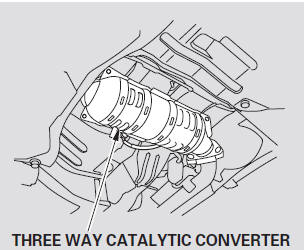 A defective three way catalytic converter contributes to air pollution, and can impair your engine's performance.
Follow these guidelines to protect your vehicle's three way catalytic converter.
• Always use unleaded gasoline.
Even a small amount of leaded gasoline can contaminate the catalyst metals, making the three way catalytic converter ineffective.
• Keep the engine well maintained.
• Have your vehicle diagnosed and repaired if it is misfiring, backfiring, stalling, or otherwise not running properly.
See also:
Brake Assist System
■Brake Assist System Designed to assist the driver by generating greater braking force when you depress the brake pedal hard during emergency braking. ■ Brake assist system operatio ...
Rear Seat Control Cable Replacement
NOTE: Take care not to tear or damage the seat covers. Put on gloves to protect your hands. Take care not to kink the cable. The left rear seat is shown, the right rear ...
Intermediate Shaft Reassembly (A/T)
Exploded View Special Tools Required Oil Seal Driver, 65 mm 07JAD-PL90100 Bearing Driver Attachment, 52 x 55 mm 07746-0010400 Bearing Driver Attachment, 35 mm I.D. 07746-0030400 Drive ...