Honda Fit: Cleaning the Seat Belts
Cleaning the Seat Belts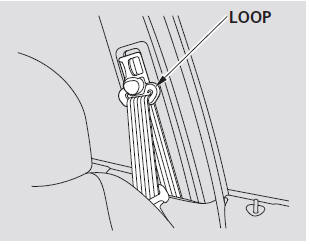 If your seat belts get dirty, use a soft brush with a mixture of mild soap and warm water to clean them. Do not use bleach, dye, or cleaning solvents. Let the belts air-dry before you use the vehicle.
Dirt build-up in the loops of the seat belt anchors can cause the belts to retract slowly. Wipe the insides of the loops with a clean cloth dampened in mild soap and warm water or isopropyl alcohol.
Floor Mats (Optional)
If your vehicle is equipped with genuine Honda floor mats, the mats hook over floor mat anchors. This keeps the floor mats from sliding forward and possibly interfering with the pedals or making the front passenger's weight sensors ineffective.
See also:
Connecting Rod and Crankshaft End Play Inspection
Remove the oil pump. Measure the connecting rod end play with a feeler gauge (A) between the connecting rod (B) and the crankshaft (C). Connecting Rod End Play ...
Fuel Tank Draining
Remove the fuel tank unit. Using a hand pump, a hose, and a container suitable for fuel, draw the fuel from the fuel tank. Reinstall the fuel tank unit. ...
Installation (Part -3)
Remove the vinyl tape from the connectors. Connect the EPS motor angle sensor 8P connector (A), torque sensor 6P connector (B) to the steering gearbox. ...