Honda Fit: Interior Lights
Ceiling Light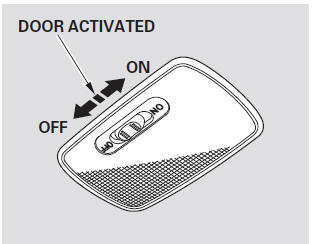 The ceiling light has a three-position switch; ON, Door Activated, and OFF. In the Door Activated (center) position, the light comes on when you: • Open any door.
• Unlock the doors and the tailgate with the key or the remote transmitter (if equipped)
After all doors are closed tightly, the light fades out in about 30 seconds.
The ceiling light (with the switch in the door activated position) comes on when you remove the key from the ignition switch. If you do not open a door, the light fades out in about 30 seconds.
If you leave any door open without the key in the ignition switch, the ceiling light will go off after 3 minutes.
See also:
Emissions Testing
Testing of Readiness Codes If you take your vehicle for an emissions test shortly after the battery has been disconnected or gone dead, it may not pass the test. This is because of certain ''r ...
Recommended Engine Oil
• Genuine Honda Motor Oil • Premium-grade 0W-20 detergent oil with an API Certification Seal on the container. Oil is a major contributor to your engine's performance and longevity. If you ...
Valve Body and ATF Strainer Removal (A/T)
Remove the ATF feed pipe (A) from the regulator valve body (B). Remove the ATF feed pipes (C) (D) from the servo body (E). Remove the ATF strainer (F) (two bolts). ...