Honda Fit: Acquiring GPS Information
Depending on the length of time the power was interrupted, your system may require GPS initialization.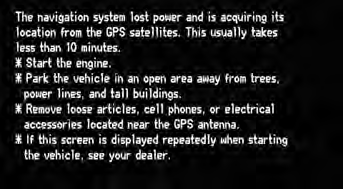 If initialization is not necessary, the system proceeds directly to the Startup Confirmation screen.
If the system fails to locate a sufficient number of satellites to locate your position within 10 minutes, the following screen is displayed.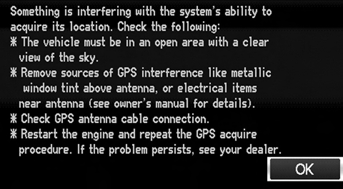 If you are experiencing GPS reception problems:
See also:
M/T Differential Carrier/Final Driven Gear Replacement (M/T)
Loosen the bolts in a crisscross pattern in several steps, then remove the final driven gear (A) from the differential carrier (B). Install the final driven gear with the cham ...
Alternator Disassembly (Page -3)
Install a new front bearing in the drive-end housing with a hammer, the driver handle, 15 x 135L (A), and the bearing driver attachment, 42 x 47 mm (B). @fo ...
Address Book
DEST button ► Address Book Select an address stored in your address book to use as the destination. 1. Select your user name. 2. Select your destination from the list. 3. Set the rout ...