Honda Fit: Acquiring GPS Information
Depending on the length of time the power was interrupted, your system may require GPS initialization.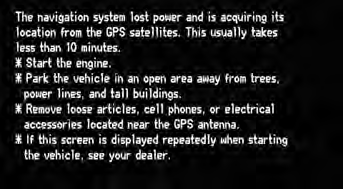 If initialization is not necessary, the system proceeds directly to the Startup Confirmation screen.
If the system fails to locate a sufficient number of satellites to locate your position within 10 minutes, the following screen is displayed.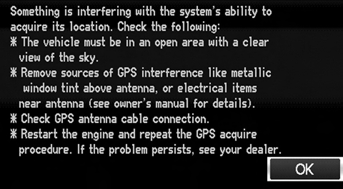 If you are experiencing GPS reception problems:
See also:
Inspecting and Changing Fuses
1. Turn the ignition switch to LOCK . Turn headlights and all accessories off. 2. Check the fuses in the engine compartment. ► If the fuse is blown, have it replaced by a dealer. 3. I ...
Seat Belt Inspection
Out of Vehicle For front seat belt retractors with seat belt tensioners, review the SRS component locations and the precautions and procedures before doing repairs or serv ...
Camshaft Installation
Insert the camshaft (A). Apply new engine oil to the journals and the cam lobes. Install the CMP pulse plate. Install the CMP sensor. Install the r ...