Honda Fit: Acquiring GPS Information
Depending on the length of time the power was interrupted, your system may require GPS initialization.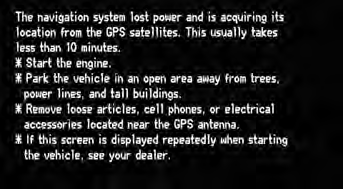 If initialization is not necessary, the system proceeds directly to the Startup Confirmation screen.
If the system fails to locate a sufficient number of satellites to locate your position within 10 minutes, the following screen is displayed.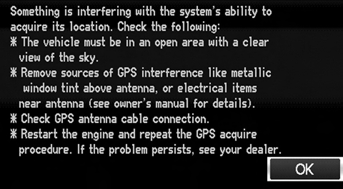 If you are experiencing GPS reception problems:
See also:
If the Charging System Indicator Comes On
■ Reasons for the indicator to come on Comes on when the battery is not being charged. ■ What to do when the indicator comes on Turn off the heating and cooling* system, rear defogg ...
Front Turn Signal Light Bulbs
When replacing, use the following bulbs. Front Turn Signal Light: 21 W (Amber) 1. Turn the socket to the left and remove it. 2. Push in the old bulb, rotate to the left until it unlocks, and rem ...
Transmission End Crankshaft Oil Seal Installation - In Car
Special Tools Required Driver Handle, 15 x 135L 07749-0010000 Oil Seal Driver Attachment, 96 mm 07ZAD-PNAA100 Remove the transmission. M/T model A/T model ...