Honda Fit: Acquiring GPS Information
Depending on the length of time the power was interrupted, your system may require GPS initialization.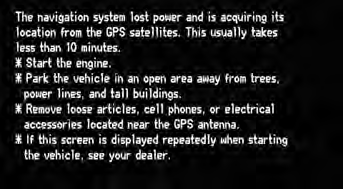 If initialization is not necessary, the system proceeds directly to the Startup Confirmation screen.
If the system fails to locate a sufficient number of satellites to locate your position within 10 minutes, the following screen is displayed.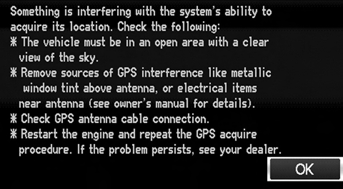 If you are experiencing GPS reception problems:
See also:
Guidance Prompts
INFO button ► Setup Set the number of guidance prompts before you get to the guidance point. Select an option. The following options are available: To replay voice guidance, select VOI ...
VIN, Engine, (Motor), Transmission Numbers, and Paint Codes
Vehicle Identification Number a. Manufacturer, Make, and Type of Vehicle JHM: Honda Motor Co., Ltd. Honda passe ...
Intermediate Shaft Removal (A/T)
Drain the transmission fluid. Reinstall the drain plug with a new sealing washer. Remove the right driveshaft. Remove the shift cable cover (A). Re ...