Honda Fit: Acquiring GPS Information
Depending on the length of time the power was interrupted, your system may require GPS initialization.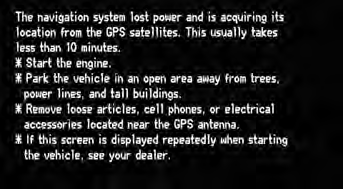 If initialization is not necessary, the system proceeds directly to the Startup Confirmation screen.
If the system fails to locate a sufficient number of satellites to locate your position within 10 minutes, the following screen is displayed.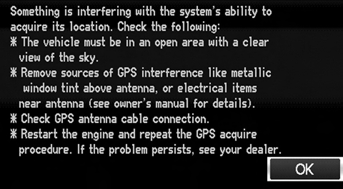 If you are experiencing GPS reception problems:
See also:
Transmission End Cover ATF Feed Pipe Replacement (A/T)
Remove the snap ring (A), the 3rd clutch feed pipe (B), and the feed pipe flange (C) from the end cover (D). Install a new O-ring (E) over the 3rd clutch feed pipe. In ...
Door Glass Adjustment
NOTE: Check the weatherstrips and glass run channel for damage or deterioration, and replace them if necessary. Place the vehicle on a firm, level surface. Remove these items: ...
Letters
...