Honda Fit: System/Device Information

INFO button
► System/Device Information
View database, software, device, and vehicle identification information.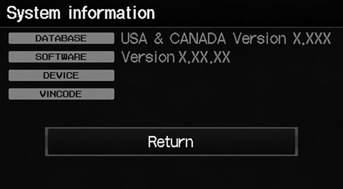 You will need this information when ordering a map update.
See also:
Connecting rod Specification(s)
Connecting rod Item Measurement Qualification Standard or New Service Limit Connecting ...
Secondary Shaft 2nd Gear Axial Clearance Inspection (A/T)
Install the thrust needle bearing (A), the needle bearing (B), 2nd gear (C), the thrust needle bearing (D), the 43 x 54.5 mm thrust washer (E), the 39 mm cotters (F), and the cotter retain ...
Inspection
Raise and support the vehicle. Remove the front wheels. Check the thickness (A) of the inner pad (B) and the outer pad (C). Do not include the thickness of the back ...