Honda Fit: System/Device Information

INFO button
► System/Device Information
View database, software, device, and vehicle identification information.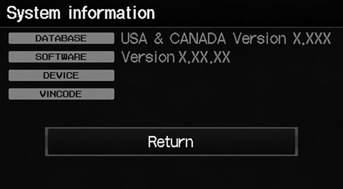 You will need this information when ordering a map update.
See also:
Synchro Sleeve and Hub Inspection and Reassembly (M/T)
Inspect gear teeth on all synchro hubs and the synchro sleeves for rounded off corners, which indicate wear. Install each synchro hub (A) in its mating synchro sleeve (B), and che ...
Radio Theft Protection
Your vehicle's audio system will disable itself if it is disconnected from electrical power for any reason. To make it work again, you must enter a specific five-digit code in the preset button ...
Refilling Window Washer Fluid
Models without washer level sensor Check the amount of window washer fluid. Look for 1/2 mark on the reservoir. If the level is low, fill the washer reservoir. Models with washer level senso If ...