Honda Fit: System/Device Information

INFO button
► System/Device Information
View database, software, device, and vehicle identification information.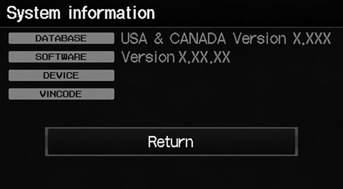 You will need this information when ordering a map update.
See also:
Cylinder Head Installation
Clean the cylinder head and the engine block surface. Install a new coolant separator (A) in the engine block whenever the engine block is replaced. Install a new ...
Manual Transmission
The manual transmission is synchronized in all forward gears for smooth operation. It has a lockout so you cannot shift directly from fifth to reverse. When shifting up or down, make sure you pu ...
Visiting Your Dealer
If you have a question that you cannot resolve using the available help resources, you can consult your dealer. Please identify the specific issue (e.g., error occurs when you enter a specific add ...