Honda Fit: System/Device Information

INFO button
► System/Device Information
View database, software, device, and vehicle identification information.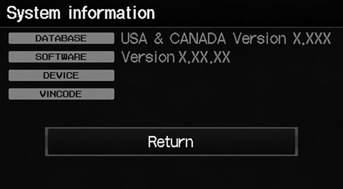 You will need this information when ordering a map update.
See also:
Side Vent
Click here for an interactive version of this procedure (driver's, passenger's). NOTE: Take care not to scratch the dashboard or its related parts. Pull the upper portion (A) of the s ...
Alternator Brush Inspection
Measure the length of both brushes (A) with a vernier caliper: If either brush is shorter than the service limit, replace the brushes, go to step 20. If brush length ...
Headliner Removal/Installation (General information)
Special Tools Required KTC Trim Tool Set SOJATP2014 *Available through the Honda Tool and Equipment Program; call 888-424-6857 SRS components are located in this area. Review the SRS ...