Honda Fit: Adjusting the Sound
AUDIO button (
►AUDIO MENU ) ► SOUND
Adjust the sound bass, treble, fader, and balance. In addition, you can set Speedsensitive Volume Compensation (SVC).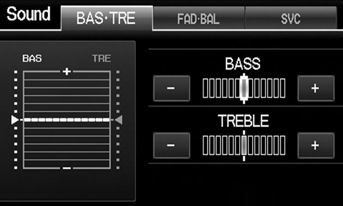 1. Select the tab to adjust the desired sound mode.
2. Adjust the desired level.
Fader adjusts the front-to-back strength, while balance adjusts the side-to-side strength.
The SVC has four modes: Off, Low, Mid, and High. SVC adjusts the volume level based on the vehicle speed. The faster you go, the audio volume increases. As you slow down, the audio volume decreases. If you feel the sound is too loud, choose Low, and vice versa.
See also:
Protecting Adults and Teens
Introduction The following pages provide instructions on how to properly protect the driver, adult passengers, and teenage children who are large enough and mature enough to drive or ride in the ...
Switching to HFL Mode
1. If you receive a call when Bluetooth® Audio is playing, press the (Pick-Up) button on the steering wheel to answer the call. 2. Press the (Hang-Up) button to end the call, and Bluetooth® ...
If the Brake System Indicator Comes On
■ Reasons for the indicator to come on • The brake fluid is low. • There is a malfunction in the brake system. ■ What to do when the indicator comes on while driving Press the ...