Honda Fit: Adjusting the Sound
AUDIO button (
►AUDIO MENU ) ► SOUND
Adjust the sound bass, treble, fader, and balance. In addition, you can set Speedsensitive Volume Compensation (SVC).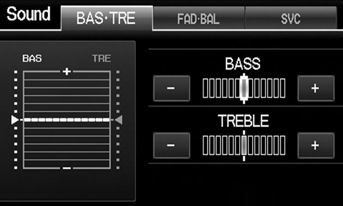 1. Select the tab to adjust the desired sound mode.
2. Adjust the desired level.
Fader adjusts the front-to-back strength, while balance adjusts the side-to-side strength.
The SVC has four modes: Off, Low, Mid, and High. SVC adjusts the volume level based on the vehicle speed. The faster you go, the audio volume increases. As you slow down, the audio volume decreases. If you feel the sound is too loud, choose Low, and vice versa.
See also:
Power Windows System Description
Anti-pinch Power Window OperationThe system is composed of the power window control unit (built into the power window master switch) and the driver's power window motor. The driver's p ...
Childproof Door Locks
The childproof door locks prevent the rear doors from being opened from the inside regardless of the position of the lock tab. To open the door from the inside when the childproof door lock is on ...
Synchro Ring and Gear Inspection (M/T)
Inspect the synchro rings for scoring, cracks, and damage (A). Inspect the inside of each synchro ring (B) for wear. Inspect the teeth (C) on each synchro ring for wear (round ...