Honda Fit: Adjusting the Sound
AUDIO button (
►AUDIO MENU ) ► SOUND
Adjust the sound bass, treble, fader, and balance. In addition, you can set Speedsensitive Volume Compensation (SVC).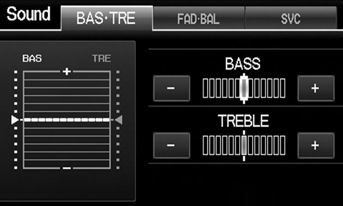 1. Select the tab to adjust the desired sound mode.
2. Adjust the desired level.
Fader adjusts the front-to-back strength, while balance adjusts the side-to-side strength.
The SVC has four modes: Off, Low, Mid, and High. SVC adjusts the volume level based on the vehicle speed. The faster you go, the audio volume increases. As you slow down, the audio volume decreases. If you feel the sound is too loud, choose Low, and vice versa.
See also:
A/T Differential Carrier Bearing Preload Inspection (A/T)
Special Tools Required Driver Handle, 15 x 135L 07749-0010000 Bearing Driver Attachment, 72 x 75 mm 07746-0010600 Preload Inspection Tool 07HAJ-PK40201 NOTE: If the transmission housing, torq ...
Using the Tailgate Open Handle
Models with remote transmitter When all the doors are unlocked, the tailgate is unlocked. All models Pull up the tailgate open handle and lift open the tailgate. To close the tailgate, grab ...
Customer Service Information
Honda dealership personnel are trained professionals. They should be able to answer all your questions. If you encounter a problem that your dealership does not solve to your satisfaction, please ...