Honda Fit: Adjusting the Sound
AUDIO button (
►AUDIO MENU ) ► SOUND
Adjust the sound bass, treble, fader, and balance. In addition, you can set Speedsensitive Volume Compensation (SVC).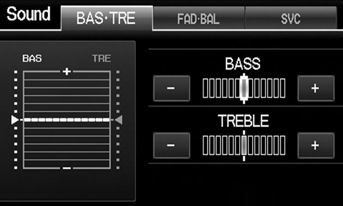 1. Select the tab to adjust the desired sound mode.
2. Adjust the desired level.
Fader adjusts the front-to-back strength, while balance adjusts the side-to-side strength.
The SVC has four modes: Off, Low, Mid, and High. SVC adjusts the volume level based on the vehicle speed. The faster you go, the audio volume increases. As you slow down, the audio volume decreases. If you feel the sound is too loud, choose Low, and vice versa.
See also:
Piston Installation
If the Crankshaft is Already Installed Set the crankshaft to bottom dead center (BDC) for each cylinder as its piston is installed. Remove the connecting rod caps, and check that ...
Piston, Pin, and Connecting Rod Replacement
Special Tools Required Pilot Pin 070AF-PWC0110 Piston Base 07973-6570500 Piston Base Spring 07973-6570600 Piston Base Head 07TGF-001000A Pilot Collar, O.D. 18 mm 070AF-PWC0130 Insert Adj ...
Your Vehicle at a Glance
* 1: To use the horn, press the center pad of the steering wheel. * 2: If equipped. ...