Honda Fit: Adjusting the Sound
AUDIO button (
►AUDIO MENU ) ► SOUND
Adjust the sound bass, treble, fader, and balance. In addition, you can set Speedsensitive Volume Compensation (SVC).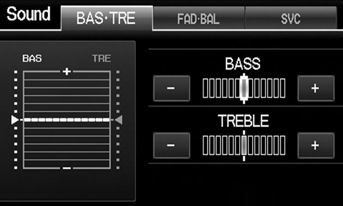 1. Select the tab to adjust the desired sound mode.
2. Adjust the desired level.
Fader adjusts the front-to-back strength, while balance adjusts the side-to-side strength.
The SVC has four modes: Off, Low, Mid, and High. SVC adjusts the volume level based on the vehicle speed. The faster you go, the audio volume increases. As you slow down, the audio volume decreases. If you feel the sound is too loud, choose Low, and vice versa.
See also:
Protecting Larger Children
Checking Seat Belt Fit To determine if a lap/shoulder belt properly fits a child, have the child put on the seat belt, then ask yourself: 1. Does the child sit all the way back against the seat? ...
Introduction
Congratulations! Your selection of a 2008 Honda Fit was a wise investment. It will give you years of driving pleasure. One of the best ways to enhance the enjoyment of your new vehicle is to read ...
Installation (Part -1)
Before installing the steering gearbox, make sure that no grease is on the mating surface of the steering gearbox and the front subframe. To prevent the gearbox mounting bolts from looseni ...