Honda Fit: Adjusting the Sound
AUDIO button (
►AUDIO MENU ) ► SOUND
Adjust the sound bass, treble, fader, and balance. In addition, you can set Speedsensitive Volume Compensation (SVC).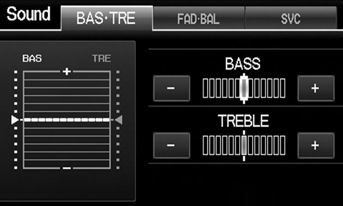 1. Select the tab to adjust the desired sound mode.
2. Adjust the desired level.
Fader adjusts the front-to-back strength, while balance adjusts the side-to-side strength.
The SVC has four modes: Off, Low, Mid, and High. SVC adjusts the volume level based on the vehicle speed. The faster you go, the audio volume increases. As you slow down, the audio volume decreases. If you feel the sound is too loud, choose Low, and vice versa.
See also:
Removal (Part -1)
Do the battery terminal disconnection procedure. Raise and support the vehicle. Remove the front wheels. Tilt the steering column all the way up and mov ...
Overview of Contents
Contents A convenient reference to the sections in this manual. Your Vehicle at a Glance A quick reference to the main controls in your vehicle. Driver and Passenger Safety Important information ...
Exploded View - Transmission Housing
NOTE: Place the clutch housing on two pieces of wood thick enough to keep the mainshaft from hitting the workbench. Remove the release bearing and the release fork. Remo ...