Honda Fit: Audio Screen Control

AUDIO button (in iPod® mode)
Control the audio screen through the navigation system.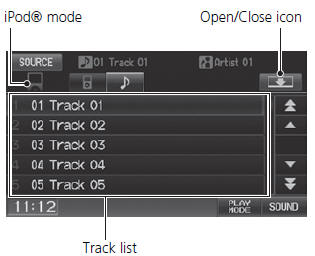 Select a track.
Select the menu tab to change songs in the track list.
The following items are available:
• PLAY
MODE

Shuffle All: Plays all tracks in
the track list in random order.

Shuffle Album: Plays all tracks in
the track list in random order by albums.
Each song in an album is played in the right order and only the order of albums is randomized.
Repeat 1 Track: Repeats the current
track.
• SOUND
: Displays the sound preferences screen.
• SOURCE
: Changes the source mode.
• Open/Close icon:
Displays/hides the detailed information.
To stop repeat- or shuffle-play, select the current play mode button again.
See also:
Driving
This section gives you tips on starting the engine under various conditions, and how to operate the manual and automatic transmissions. It also includes important information on parking your vehicl ...
Playing a USB Flash Drive
Your audio system reads and plays sound files on a USB flash drive in either MP3, WMA or AAC*1 format. Connect your USB flash drive to the USB adapter cable, then press the AUX button. *1:O ...
Locking/Unlocking the Doors from the Inside
Using the Lock Tab ■ Locking a door Pull the lock tab rearward. ■ Unlocking a door Push the lock tab forward. Models with remote transmitter When you lock the door using the lock ...