Honda Fit: Audio Screen Control

AUDIO button (in iPod® mode)
Control the audio screen through the navigation system.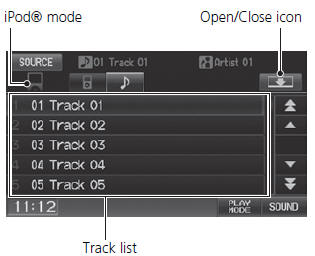 Select a track.
Select the menu tab to change songs in the track list.
The following items are available:
• PLAY
MODE

Shuffle All: Plays all tracks in
the track list in random order.

Shuffle Album: Plays all tracks in
the track list in random order by albums.
Each song in an album is played in the right order and only the order of albums is randomized.
Repeat 1 Track: Repeats the current
track.
• SOUND
: Displays the sound preferences screen.
• SOURCE
: Changes the source mode.
• Open/Close icon:
Displays/hides the detailed information.
To stop repeat- or shuffle-play, select the current play mode button again.
See also:
Day or Night Mode
Press the (Display mode) button to manually switch between day and night mode. ...
Lower Front Bumper Grille Replacement
Special Tools Required KTC Trim Tool Set SOJATP2014 *Available through the Honda Tool and Equipment Program; call 888-424-6857 With Front Fog Lights NOTE: Take care not to scratch ...
Shift Cable Adjustment (A/T)
Remove the center console. Shift the transmission to N. Remove the nut securing the shift cable end. Rotate the socket holder (A) on the shift cable ( ...