Honda Fit: Audio Screen Control

AUDIO button (in iPod® mode)
Control the audio screen through the navigation system.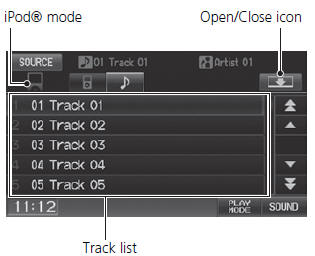 Select a track.
Select the menu tab to change songs in the track list.
The following items are available:
• PLAY
MODE

Shuffle All: Plays all tracks in
the track list in random order.

Shuffle Album: Plays all tracks in
the track list in random order by albums.
Each song in an album is played in the right order and only the order of albums is randomized.
Repeat 1 Track: Repeats the current
track.
• SOUND
: Displays the sound preferences screen.
• SOURCE
: Changes the source mode.
• Open/Close icon:
Displays/hides the detailed information.
To stop repeat- or shuffle-play, select the current play mode button again.
See also:
Removal (Part -1)
Do the battery terminal disconnection procedure. Raise and support the vehicle. Remove the front wheels. Tilt the steering column all the way up and mov ...
Rotor Slip Ring Test
Measure the resistance between the slip rings (A): If the resistance is within the standard, go to step 22. If the resistance is not within the standard, replace the roto ...
Important Safety Precautions
You'll find many safety recommendations throughout this section, and throughout this manual. The recommendations on this page are the ones we consider to be the most important. Always Wear Your ...