Honda Fit: Audio Screen Control

AUDIO button (in iPod® mode)
Control the audio screen through the navigation system.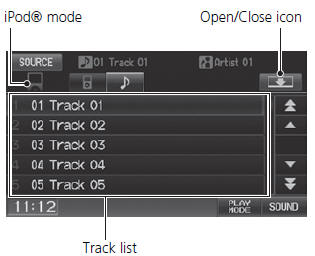 Select a track.
Select the menu tab to change songs in the track list.
The following items are available:
• PLAY
MODE

Shuffle All: Plays all tracks in
the track list in random order.

Shuffle Album: Plays all tracks in
the track list in random order by albums.
Each song in an album is played in the right order and only the order of albums is randomized.
Repeat 1 Track: Repeats the current
track.
• SOUND
: Displays the sound preferences screen.
• SOURCE
: Changes the source mode.
• Open/Close icon:
Displays/hides the detailed information.
To stop repeat- or shuffle-play, select the current play mode button again.
See also:
Accessories and Modifications
WARNING Improper accessories or modifications can affect your vehicle's handling, stability, and performance, and cause a crash in which you can be seriously hurt or killed. Follow all instru ...
Fuse Access Panel Removal/Installation
NOTE: Take care not to scratch the dashboard or its related parts. Do not pry on the panel surface with any tools. Pull the fuse access panel (A) back by hand to release the ...
Radiator Replacement
Raise the vehicle on the lift. Drain the engine coolant. Disconnect the ECT sensor 2 connector (A), then remove the harness clamp (B). With A/C: Re ...