Honda Fit: Audio Screen Control

AUDIO button (in iPod® mode)
Control the audio screen through the navigation system.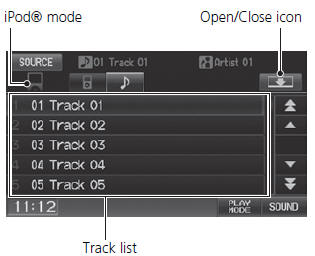 Select a track.
Select the menu tab to change songs in the track list.
The following items are available:
• PLAY
MODE

Shuffle All: Plays all tracks in
the track list in random order.

Shuffle Album: Plays all tracks in
the track list in random order by albums.
Each song in an album is played in the right order and only the order of albums is randomized.
Repeat 1 Track: Repeats the current
track.
• SOUND
: Displays the sound preferences screen.
• SOURCE
: Changes the source mode.
• Open/Close icon:
Displays/hides the detailed information.
To stop repeat- or shuffle-play, select the current play mode button again.
See also:
Installation
Hold the gearbox housing using a C-clamp (A) and wooden blocks (B) to a workbench as shown. Do not clamp the cylinder part of the gearbox housing in a vise. ...
Rear Seat Control Cable Replacement
NOTE: Take care not to tear or damage the seat covers. Put on gloves to protect your hands. Take care not to kink the cable. The left rear seat is shown, the right rear ...