Honda Fit: Audio Menu

AUDIO button (in FM/AM mode)
►AUDIO MENU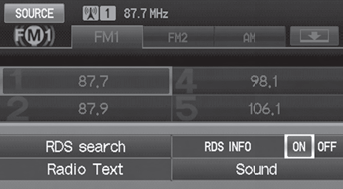 Select an item.
The following items are available:
• RDS search: Searches for programs by RDS category.
• Radio Text: Displays the text information broadcast by the current RDS station.
• RDS INFO: Sets whether to display the RDS Information on the screen.
• SOUND: Displays the sound preferences screen.