Honda Fit: Going Home
1 Press the DEST button.

2 Select Go Home 1.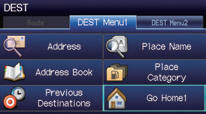 Alternatively, you can say

"Go
Home" from any screen. Your home address is displayed on the Calculate Route screen.
3 Select Set as Dest.
►The following voice commands are available: say

"Go Home,"


"Go
Home 1,"

"Go Home 2."
►If you have two home addresses stored, saying

"Go Home" will select Home
Address 1.
See also:
Fuel Economy
Actual Mileage and EPA Fuel Economy Estimates Comparison. Fuel economy is not a fixed number. It varies based on driving conditions, driving habits and vehicle condition. Therefore, it is not possi ...
Tires
To safely operate your vehicle, your tires must be the proper type and size, in good condition with adequate tread, and correctly inflated. The following pages give more detailed information on how ...
Grab Handle Removal/Installation
Special Tools Required KTC Trim Tool Set SOJATP2014 *Available through the Acura Tool and Equipment Program; call 888-424-6857 NOTE: Use the appropriate tool from the KTC trim tool set ...