Honda Fit: Command Help
For "Command Help" menu items, all voice commands that are available for that system are listed.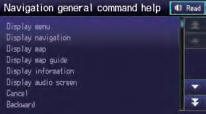 Select Read to hear the commands in the list read aloud.
Voice Commands
See also:
Windshield Replacement
NOTE: Put on gloves to protect your hands. Wear eye protection while cutting the glass adhesive with a piano wire. Use seat covers to avoid damaging any surface. Glass a ...
Tire Pressure Monitoring System (TPMS) - Required Federal Explanation
Maximum Tire Pressure Max Press - The maximum air pressure the tire can hold. Maximum Tire Load Max Load - The maximum load the tire can carry at maximum air pressure. Tire PressureMonitoring Sys ...
Light Switches
Rotating the light switch turns the lights on and off, regardless of the position of the ignition switch. ■ High beams Push the lever forward until you hear a click. ■ Low beams ...