Honda Fit: Shift Lever Does Not Move
Automatic transmission models
Follow the procedure below if you cannot move the shift lever out of the


position.
■Releasing the Lock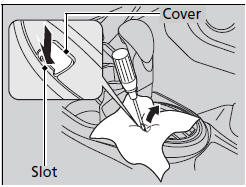 1. Set the parking brake.
2. Remove the key from the ignition switch.
3. Wrap a cloth around the tip of a small flattip screwdriver and remove the cover of the shift lock release slot.
► Put the tip of the flat-tip screwdriver into the slot and remove it as shown in the image.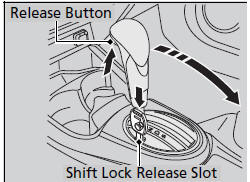 4. Insert the key into the shift lock release slot.
5. While pushing on the key, press the shift lever release button and place the shift lever into

.

► The lock is now released. Have the shift lever checked by a dealer as soon as possible.
See also:
Alternator Brush Inspection
Measure the length of both brushes (A) with a vernier caliper: If either brush is shorter than the service limit, replace the brushes, go to step 20. If brush length ...
Transmission End Cover Removal (A/T)
Special Tools Required Mainshaft Holder 07GAB-PF50101 Remove the bolts securing the ATF inlet line (D) and ATF filter holder (E), the line bolt and sealing washers, and remove the ATF in ...
Brake/Clutch Fluid
Specified fluid: Honda Heavy Duty Brake Fluid DOT 3 Use the same fluid for both the brakes and clutch. NOTICE Brake fluid marked DOT 5 is not compatible with your vehicle's braking system and ca ...