Honda Fit: Manual transmission models Shifting
■Shift Lever Operation+
Fully depress the clutch pedal to operate the shift lever and change gears, then slowly release the pedal.
Depress the clutch pedal, and pause for a few seconds before shifting into

, or
shift into one of the forward gears for a moment. This stops the gears so they do not "grind."
NOTICE
Do not shift to

before the
vehicle comes to a complete stop.
Shifting to

before stopping can
damage the transmission.
NOTICE
Before downshifting, make sure the engine will not go into the tachometer's red zone. Should this occur, it can severely damage your engine.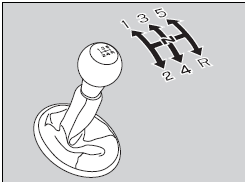 When you are not shifting, do not rest your foot on the clutch pedal. This can cause your clutch to wear out faster.
Recommended Shift Points Driving in the highest gear that allows the engine to run and accelerate smoothly helps to optimize fuel economy and effective emissions control. The following shift points are recommended:

If you exceed the maximum speed for the gear you are in, the engine speed will enter into the tachometer's red zone. When this happens, you may experience a slight jolt.
See also:
Auto Door Locking/Unlocking
Your vehicle locks all doors and unlocks the driver's door automatically when a certain condition is met. You can turn off or change to another auto door locking/unlocking setting using the mas ...
Engine Coolant
Specified coolant: Honda Long Life Antifreeze/Coolant Type 2 This coolant is premixed with 50% antifreeze and 50% water. Do not add any straight antifreeze or water. We recommend you check the en ...
HFL Menus
The ignition switch must be in ACCESSORY or ON to use HFL. To use HFL, you must first pair your Bluetooth-compatible cell phone to the system while the vehicle is parked. Phone Setup ...