Honda Fit: Adjusting the Steering Wheel
The steering wheel height and distance from your body can be adjusted so that you can comfortably grip the steering wheel in an appropriate driving posture.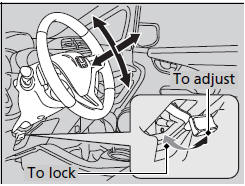 1. Pull the steering wheel adjustment lever up.
► The steering wheel adjustment lever is under the steering column.
2. Move the steering wheel up or down, and in or out.
► Make sure you can see the instrument panel gauges and indicators.
3. Push the steering wheel adjustment lever down to lock the steering wheel in position.
► After adjusting the position, make sure you have securely locked the steering wheel in place by trying to move it up, down, in, and out.
WARNING
Adjusting the steering wheel position while driving may cause you to lose control of the vehicle and be seriously injured in a crash.
Adjust the steering wheel only when the vehicle is stopped.
Make any steering wheel adjustments before you start driving.
See also:
Honda Fit 2007-2021 Navigation Online Reference Manual
The information and specifications included in this publication were in effect at the time of approval for printing. Honda Motor Co., Ltd., reserves the right, however, to discontinue or change s ...
Connecting Rod and Crankshaft End Play Inspection
Remove the oil pump. Measure the connecting rod end play with a feeler gauge (A) between the connecting rod (B) and the crankshaft (C). Connecting Rod End Play ...
Changing Your Destination
There are four methods you can use to specify a new destination during route guidance. ►Say "Find Nearest…" Searches for the nearest place/landmark on the map screen (e.g., " ...