Honda Fit: How to Use This Manual
This section explains different methods on how you can easily find information in this manual.
Searching the Table of Contents
Two types of Tables of Contents help you find your desired information.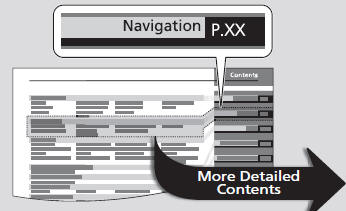 Table of Contents
First, find the general chapter related to what you are looking for (e.g., entering a destination from the Address Book).
Then, go to that chapter to view a more specific table of contents.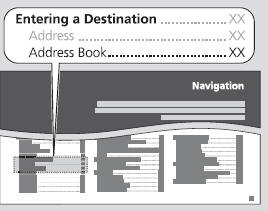 Chapter Contents
This more detailed table of contents shows you exactly what information is listed by section and title.
Searching the Index
Menu items displayed on the navigation screen (e.g., Address Book) can be found individually in the Index.
The Index consists of main terms and subentries.
The sub-entries help you get to the desired page depending on what you are looking for.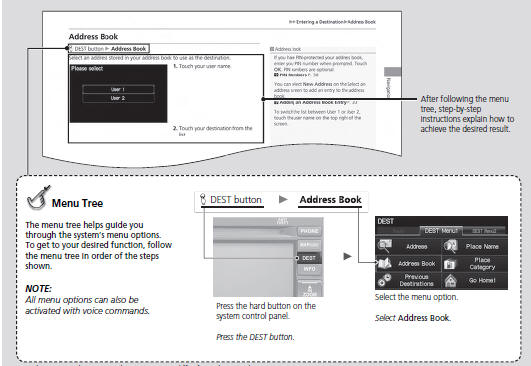 Sample pages and images in this section may differ from the actual ones.
See also:
Warranty Coverages
■ U.S. Owners Your new vehicle is covered by these warranties: New Vehicle Limited Warranty – covers your new vehicle, except for the emissions control systems and accessories, against defe ...
Tailgate Dynamic Damper Replacement
NOTE: Put on gloves to protect your hands. Take care not to scratch the tailgate or the related parts. Remove the tailgate lower trim panal. Remove the bolts, ...
Changing the Currently Paired Phone
PHONE button ► Phone Setup ► Add/Select a phone 1. Select List under Paired Phone List. 2. Select a phone to connect. 3. Select Connect. ► HFL disconnects the linked ...