Honda Fit: How to Use This Manual
This section explains different methods on how you can easily find information in this manual.
Searching the Table of Contents
Two types of Tables of Contents help you find your desired information.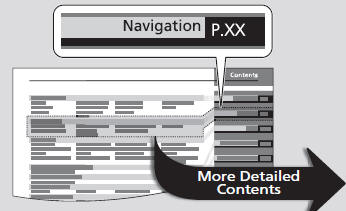 Table of Contents
First, find the general chapter related to what you are looking for (e.g., entering a destination from the Address Book).
Then, go to that chapter to view a more specific table of contents.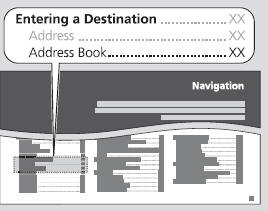 Chapter Contents
This more detailed table of contents shows you exactly what information is listed by section and title.
Searching the Index
Menu items displayed on the navigation screen (e.g., Address Book) can be found individually in the Index.
The Index consists of main terms and subentries.
The sub-entries help you get to the desired page depending on what you are looking for.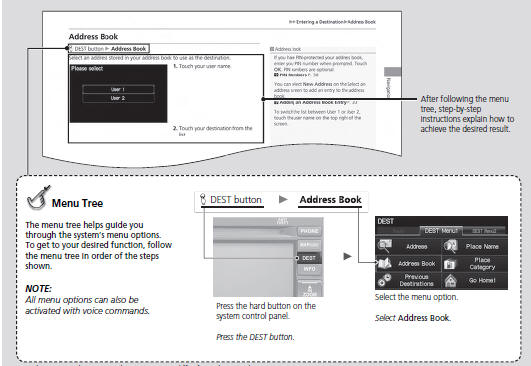 Sample pages and images in this section may differ from the actual ones.
See also:
Instrument Panel Removal/Installation
Special Tools Required KTC Trim Tool Set SOJATP2014 *Available through the Honda Tool and Equipment Program; call 888-424-6857 NOTE: Take care not to scratch the dashboard or its ...
USB Flash Drive
...
Changing the Route Preference
Change the route preference by selecting minimum or maximum driving methods. 1. Select MIN or MAX for each item. 2. Select OK. The calculated route may not be the route you would choose. For saf ...