Honda Fit: How to Use This Manual
This section explains different methods on how you can easily find information in this manual.
Searching the Table of Contents
Two types of Tables of Contents help you find your desired information.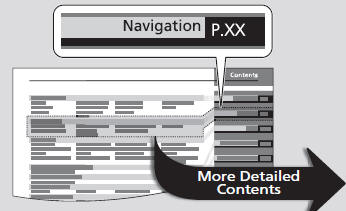 Table of Contents
First, find the general chapter related to what you are looking for (e.g., entering a destination from the Address Book).
Then, go to that chapter to view a more specific table of contents.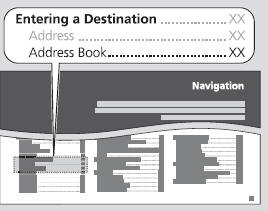 Chapter Contents
This more detailed table of contents shows you exactly what information is listed by section and title.
Searching the Index
Menu items displayed on the navigation screen (e.g., Address Book) can be found individually in the Index.
The Index consists of main terms and subentries.
The sub-entries help you get to the desired page depending on what you are looking for.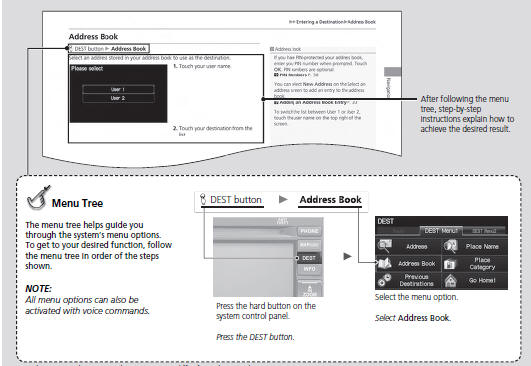 Sample pages and images in this section may differ from the actual ones.
See also:
Canceling the Route
DEST button (when en route) ►Cancel Route Cancel the route guidance and remove the destination and all waypoints from the destination list. The system then returns to the map screen. You ...
Transmission Mount Bracket Replacement
Do the battery removal procedure. Remove the air cleaner. M/T model: Remove the battery cables (A) from the battery terminal fuse box. M/T mode ...
Transmission End Cover ATF Feed Pipe Replacement (A/T)
Remove the snap ring (A), the 3rd clutch feed pipe (B), and the feed pipe flange (C) from the end cover (D). Install a new O-ring (E) over the 3rd clutch feed pipe. In ...