Honda Fit: How to Use This Manual
This section explains different methods on how you can easily find information in this manual.
Searching the Table of Contents
Two types of Tables of Contents help you find your desired information.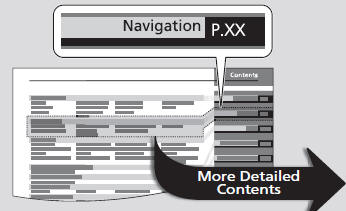 Table of Contents
First, find the general chapter related to what you are looking for (e.g., entering a destination from the Address Book).
Then, go to that chapter to view a more specific table of contents.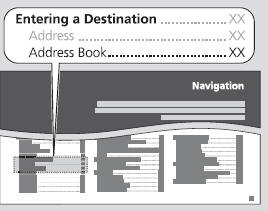 Chapter Contents
This more detailed table of contents shows you exactly what information is listed by section and title.
Searching the Index
Menu items displayed on the navigation screen (e.g., Address Book) can be found individually in the Index.
The Index consists of main terms and subentries.
The sub-entries help you get to the desired page depending on what you are looking for.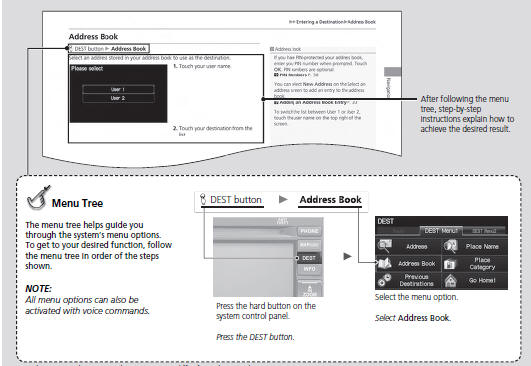 Sample pages and images in this section may differ from the actual ones.
See also:
On-Screen Commands
The system accepts these commands on any screen. There are over 100 on-screen commands. Say what is written on the screen to activate that selection. For lists, you can say the list item number to ...
A/C System Charging (With A/C)
caution Air conditioning refrigerant or lubricant vapor can irritate your eyes, nose, or throat. Be careful when connecting service equipment. ...
Immobilizer System Description
The vehicle is equipped with a Type VII immobilizer system that disables the vehicle unless a programmed ignition key is used. This system consists of a transponder combined with a keyless transmit ...