Honda Fit: How to Use This Manual
This section explains different methods on how you can easily find information in this manual.
Searching the Table of Contents
Two types of Tables of Contents help you find your desired information.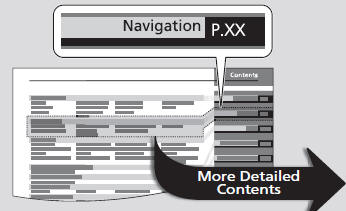 Table of Contents
First, find the general chapter related to what you are looking for (e.g., entering a destination from the Address Book).
Then, go to that chapter to view a more specific table of contents.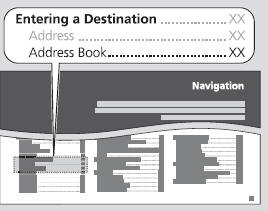 Chapter Contents
This more detailed table of contents shows you exactly what information is listed by section and title.
Searching the Index
Menu items displayed on the navigation screen (e.g., Address Book) can be found individually in the Index.
The Index consists of main terms and subentries.
The sub-entries help you get to the desired page depending on what you are looking for.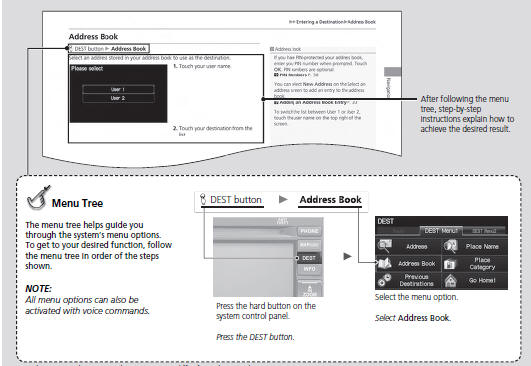 Sample pages and images in this section may differ from the actual ones.
See also:
Shaft Assembly and Housing Installation (A/T)
Install the differential assembly in the torque converter housing. Install the baffle plate. Assemble the mainshaft, the countershaft, and the secondary shaft. NO ...
CD Player
If a disc error occurs, you may see the following error messages. ...
Connecting Rod and Crankshaft End Play Inspection
Remove the oil pump. Measure the connecting rod end play with a feeler gauge (A) between the connecting rod (B) and the crankshaft (C). Connecting Rod End Play ...