Honda Fit: How to Use This Manual
This section explains different methods on how you can easily find information in this manual.
Searching the Table of Contents
Two types of Tables of Contents help you find your desired information.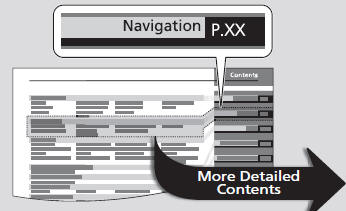 Table of Contents
First, find the general chapter related to what you are looking for (e.g., entering a destination from the Address Book).
Then, go to that chapter to view a more specific table of contents.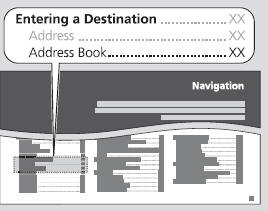 Chapter Contents
This more detailed table of contents shows you exactly what information is listed by section and title.
Searching the Index
Menu items displayed on the navigation screen (e.g., Address Book) can be found individually in the Index.
The Index consists of main terms and subentries.
The sub-entries help you get to the desired page depending on what you are looking for.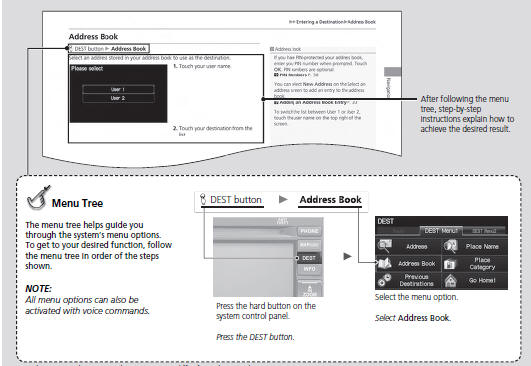 Sample pages and images in this section may differ from the actual ones.
See also:
Output Shaft (Countershaft) Speed Sensor Replacement (A/T)
Remove the air cleaner assembly. Disconnect the output shaft (countershaft) speed sensor connector, and remove the output shaft (countershaft) speed sensor (A). ...
Power Windows
Turn the ignition switch to the ON (II) position to raise or lower any window. To open the window, push the switch down and hold it. Release the switch when you want to stop the window. To close ...
TPMS (Tire Pressure Monitoring System)
U.S. models only Monitors the tire pressure while you are driving. If your vehicle's tire pressure becomes significantly low, the low tire pressure indicator comes on. Conditions such as low ...