Honda Fit: Getting Started Tutorial
1 Press the INFO button.
2 Select Voice Info.
3 Select Getting started.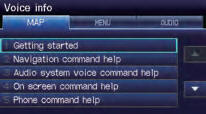 You can also view the available command list for each system. See Command Help on this page.
4 Select Using the talk button.
5 Select Read to hear the tutorial read aloud.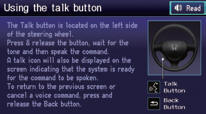 Select Stop to stop the tutorial.
See also:
Clutch Wave-Plate Phase Difference Inspection (A/T)
Place the clutch wave-plate (A) on a surface plate, and set a dial indicator (B) on the wave-plate. Find the bottom (C) of a phase difference of the wave-plate, zero the di ...
Maintenance MinderTM
If the engine oil life is less than 15%, you will see the Maintenance Minder messages appear on the information display every time you turn the ignition switch to ON . The messages notify you w ...
Charging System Indicator
If the charging system indicator comes on brightly when the engine is running, the battery is not being charged. Immediately turn off all electrical accessories. Try not to use other electrically ...