Honda Fit: Using Voice Control
When you see

in this manual,
voice commands are available for that feature.
►Say the letter, number, or symbol (e.g., say

"A").

 Use spelling assist (e.g., say

"Alpha" to enter the letter "A" or

"Hyphen" to enter a hyphen).

 The system beeps if you say an unavailable (grayed out) letter or number.
 If a voice command is not recognized, a list is displayed with possible options.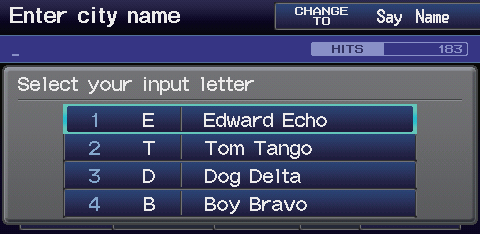 On list screens:
►Say the number of the list item (e.g., say
"Five" to select item
5).
► Say d "Up" or
"Previous" to
scroll up one page.
►Say d "Down" or
"Next" to scroll
down one page.
See also:
Childproof Door Locks
The childproof door locks prevent the rear doors from being opened from the inside regardless of the position of the lock tab. To open the door from the inside when the childproof door lock is on ...
Personal Information
INFO button ► Setup ►Personal Information Use the personal information menu to select and set your address books, home addresses, and PINs. You can also delete unwanted destinations ...
Side Impact Sensor (Second) Replacement
Removal Do the battery terminal disconnection procedure, then wait at least 3 minutes before starting work. Remove the cargo area side trim. Disconnect the side ...