Honda Fit: Using Voice Control
When you see

in this manual,
voice commands are available for that feature.
►Say the letter, number, or symbol (e.g., say

"A").

 Use spelling assist (e.g., say

"Alpha" to enter the letter "A" or

"Hyphen" to enter a hyphen).

 The system beeps if you say an unavailable (grayed out) letter or number.
 If a voice command is not recognized, a list is displayed with possible options.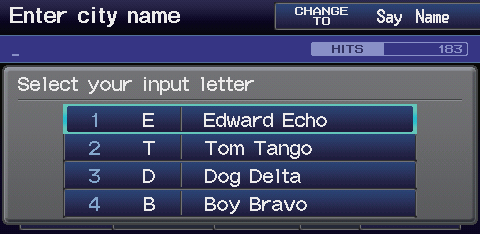 On list screens:
►Say the number of the list item (e.g., say
"Five" to select item
5).
► Say d "Up" or
"Previous" to
scroll up one page.
►Say d "Down" or
"Next" to scroll
down one page.
See also:
Editing Phone Information
PHONE button ► Phone Setup ► Add/Select a phone ► List Edit the user name of a paired phone, and protect the phonebook and speed dial entries with a PIN. 1. Select a phone t ...
Tire Labeling
The tires that came on your vehicle have a number of markings. Those you should be aware of are described below. Tire Size Whenever tires are replaced, they should be replaced with tires of the ...
Powertrain
...