Honda Fit: Using Voice Control
When you see

in this manual,
voice commands are available for that feature.
►Say the letter, number, or symbol (e.g., say

"A").

 Use spelling assist (e.g., say

"Alpha" to enter the letter "A" or

"Hyphen" to enter a hyphen).

 The system beeps if you say an unavailable (grayed out) letter or number.
 If a voice command is not recognized, a list is displayed with possible options.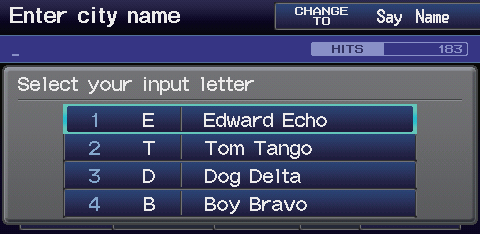 On list screens:
►Say the number of the list item (e.g., say
"Five" to select item
5).
► Say d "Up" or
"Previous" to
scroll up one page.
►Say d "Down" or
"Next" to scroll
down one page.
See also:
Ignition Switch
Manual transmission models WARNING Removing the key from the ignition switch while driving locks the steering. This can cause you to lose control of the vehicle. Remove the key from the ignit ...
Throttle Body Cleaning
caution Do not insert your fingers into the installed throttle body when you turn the ignition switch to ON (II) or while the ignition switch is in ON (II). If you d ...
Front Brake Pad Inspection and Replacement
Special Tools Required Brake Caliper Piston Compressor 07AAE-SEPA101 caution Frequent inhalation of brake pad dust, regardless of material composition, could be h ...