Honda Fit: Using Voice Control
When you see

in this manual,
voice commands are available for that feature.
►Say the letter, number, or symbol (e.g., say

"A").

 Use spelling assist (e.g., say

"Alpha" to enter the letter "A" or

"Hyphen" to enter a hyphen).

 The system beeps if you say an unavailable (grayed out) letter or number.
 If a voice command is not recognized, a list is displayed with possible options.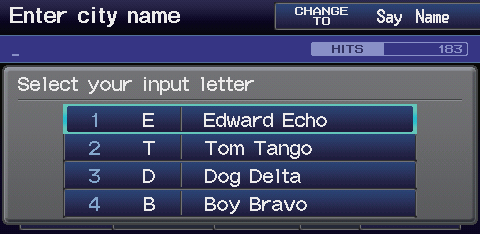 On list screens:
►Say the number of the list item (e.g., say
"Five" to select item
5).
► Say d "Up" or
"Previous" to
scroll up one page.
►Say d "Down" or
"Next" to scroll
down one page.
See also:
Changing the Pairing Code
PHONE button ► Phone Setup ► Add/Select a phone 1. Select Edit under Pairing Code. 2. Select an item. The following items are available: • Random: Uses a randomly generated pai ...
ATF Cooler Cleaning (A/T)
Special Tools Required ATF Cooler Cleaner GHTTTCF6H Magnetic Nonbypass Spin-On Filter GTHGNBP2 *: Available through the Honda Tool and Equipment Program 888-424-6857. Before installing an ...
Low Oil Pressure Indicator
This indicator should never come on when the engine is running. If it starts flashing or stays on, the oil pressure has dropped very low or lost pressure. Serious engine damage is possible, and ...