Honda Fit: Using Voice Control
When you see

in this manual,
voice commands are available for that feature.
►Say the letter, number, or symbol (e.g., say

"A").

 Use spelling assist (e.g., say

"Alpha" to enter the letter "A" or

"Hyphen" to enter a hyphen).

 The system beeps if you say an unavailable (grayed out) letter or number.
 If a voice command is not recognized, a list is displayed with possible options.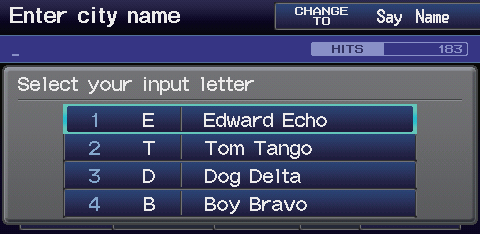 On list screens:
►Say the number of the list item (e.g., say
"Five" to select item
5).
► Say d "Up" or
"Previous" to
scroll up one page.
►Say d "Down" or
"Next" to scroll
down one page.
See also:
Hood Opener Cable Replacement
NOTE: Put on gloves to protect your hands. Take care not to scratch the body or its related parts. Remove these items: Front grille cover Front ...
Front Turn Signal Light Bulbs
When replacing, use the following bulbs. Front Turn Signal Light: 21 W (Amber) 1. Turn the socket to the left and remove it. 2. Push in the old bulb, rotate to the left until it unlocks, and rem ...
Preparing to Drive
You should do the following checks and adjustments before you drive your vehicle. 1. Make sure all windows, mirrors, and outside lights are clean and unobstructed. Remove frost, snow, or ice. 2. C ...