Honda Fit: Ignition Switch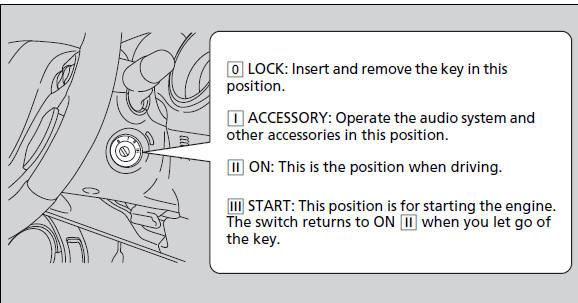 Manual transmission models
WARNING
Removing the key from the ignition switch while driving locks the steering. This can cause you to lose control of the vehicle.
Remove the key from the ignition switch only when parked.
Automatic transmission models
You cannot take the key out unless the shift lever is in

.
All models
If you open the driver's door when the key is in LOCK

or ACCESSORY (

,
a warning buzzer will sound to remind you to take the key out.
If the key won't turn from LOCK

to
ACCESSORY

, turn the key while moving the
steering wheel left and right. The steering wheel will unlock, allowing the key to turn.
See also:
Jump Starting
■Jump Starting Procedure Turn off the power to electric devices, such as audio and lights. Turn off the engine, then open the hood. 1. Connect the first jumper cable to your vehicle's ...
Playing the AM/FM Radio
To Play the AM/FMRadio The ignition switch must be in the ACCESSORY (I) or ON (II) position. Turn the system on by pushing the PWR/VOL knob or the AM/FM button (AM or FM button except Sport mode ...
Installation (Part -1)
Before installing the steering gearbox, make sure that no grease is on the mating surface of the steering gearbox and the front subframe. To prevent the gearbox mounting bolts from looseni ...