Honda Fit: Disc Player Error Messages
The chart on the right explains the error messages you may see in the display while playing a disc.
If you see an error message in the display while playing a disc, press the eject button. After ejecting the disc, check it for damage or deformation. If there is no damage, insert the disc again.
The audio systemwill try to play the disc. If there is still a problem, the error message will reappear. Press the eject button, and pull out the disc.
Insert a different disc. If the new disc plays, there is a problem with the first disc. If the error message cycle repeats and you cannot clear it, take your vehicle to a dealer.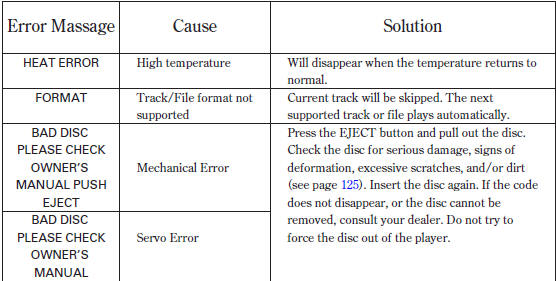 See also:
Audio Antenna
Your vehicle is equipped with an antenna at the rear of the roof . Bef ore using a ''drive-through'' car wash, remove the antenna by unscrewing it by hand. This prevents the antenna f ...
M/T Differential Carrier/Final Driven Gear Replacement (M/T)
Loosen the bolts in a crisscross pattern in several steps, then remove the final driven gear (A) from the differential carrier (B). Install the final driven gear with the cham ...
Map Input
DEST button ►DEST Menu 2►Map Input Use the joystick to manually select an icon or a location on the map screen as the destination. You are prompted to define the map area to displ ...