Honda Fit: Auxiliary Input Jack
Use the jack in the console compartment to connect standard audio devices.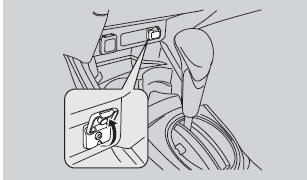 1. Open the AUX cover.
2. Connect a standard audio device to the input jack using a 1/8 inch/3.5 mm stereo miniplug.
► The audio system automatically switches to the AUX mode.
To switch the mode, press any of the other audio mode buttons. You can return to the AUX mode by pressing the AUX button.
See also:
Rear Brake Hose Replacement
Raise and support the vehicle. Remove the rear wheel. Disconnect the brake hose (A) from the brake line (B) using a 10 mm flare-nut wrench (C). ...
Connecting Rod Bolt Inspection
Measure the diameter of each connecting rod bolt at point A and point B with a micrometer. Calculate the difference in diameter between point A and point B. Point AпјЌPoi ...
Transmission End Cover ATF Feed Pipe Replacement (A/T)
Remove the snap ring (A), the 3rd clutch feed pipe (B), and the feed pipe flange (C) from the end cover (D). Install a new O-ring (E) over the 3rd clutch feed pipe. In ...