Honda Fit: Calculating the Route
This section describes how to calculate your route.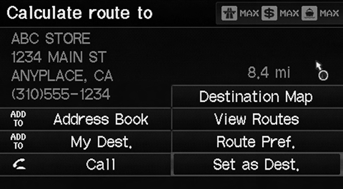 1. Select Set as Dest.
► The system calculates and displays the route line on the map screen.
The following items are available:
• Route Pref.: Changes the route preferences (calculating method).
• View Routes: Displays three different routes.
• Destination Map: Displays a map of the destination.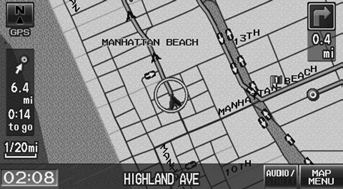 2. Follow the route guidance to your destination.
► The system provides you with pop-up messages if your route passes through unverified areas, avoid areas, or areas with traffic restrictions.
The current route preferences are displayed as icons on the top right of the Calculate Route screen. The straight line distance (as the crow flies, not driving distance) and direction to the destination are shown.
You cannot use voice commands while the system is calculating the route.
Add to Address Book
You can add the destination address to the address book.
Add to My Dest.
You can add the address to the destination list.
Call

You can place a telephone call to the destination phone number.
See also:
Oil Check
We recommend that you check the engine oil level every time you refuel. Park the vehicle on level ground. Wait approximately three minutes after turning the engine off before you check the oi ...
Viewing the Route
Map Screen After calculating the route to your destination, the route is displayed on the map screen. As you drive, the system tracks your position on the map in real time and provides guida ...
Starting System
Starter Overhaul Exploded View NOTE: Refer to the Exploded View if needed during this procedure. Armature Inspection and Test Remove the starter. Inspect the armature f ...