Honda Fit: Previous Destinations

INFO button
► Setup ►Personal Information►Previous Destinations
The navigation system maintains a list of your previously routed destinations as a shortcut for entering the same destination in the future. You can delete some or all of your previous destinations from the list.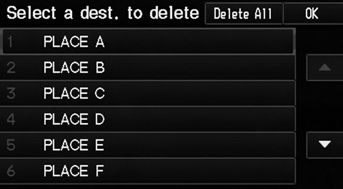 1. Select the destination to delete.
► Repeat the procedure as necessary.
► Items to be deleted are indicated with a trash icon.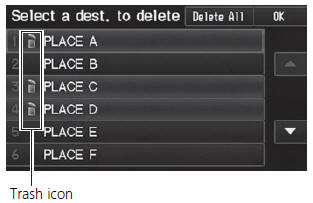 2. Select OK to delete the selected destinations.
Up to 50 destinations can be stored.
The list of previous destinations is shared with User 1 and User 2. For example, if User 1 deletes some previous destinations, they are deleted for User 2 as well.
To cancel the selection of a previous destination, select the destination again.
Selecting Delete All allows you to delete all destinations.
See also:
Online Reference Owner's Manual
This owner's manual should be considered a permanent part of the vehicle and should remain with the vehicle when it is sold. This owner's manual covers all models of your vehicle. You may find ...
EVAP Canister Filter Replacement
Remove the air cleaner. Disconnect the hoses (A). Remove the EVAP canister filter (B). Install the parts in the reverse order of removal. ...
Disc Player Error Messages
The chart on the right explains the error messages you may see in the display while playing a disc. If you see an error message in the display while playing a disc, press the eject button. After ...