Honda Fit: Home Addresses

INFO button
► Setup ►Personal Information►Home Address 1 or Home Address 2
Set two home addresses that you frequently use.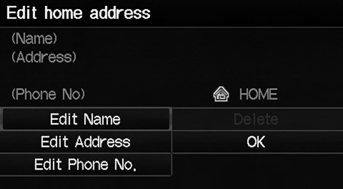 1. Edit the name, address, and phone number the same way as an address in the address book.
2. Select OK.
If you have PIN-protected your home addresses, enter your PIN when prompted. Select OK. PINs are optional.
If your home street is not in the system database, park on the nearest verified street to your home.
When entering the "Address" field, select Current Position to use your current location as the home address.
You can delete a home address if necessary.
Select Delete. Select Yes.
When you transfer the vehicle to a third party, delete all home addresses.
The home icon is shown on the map screen on 5 mile or less map scales.
See also:
A/T Differential Carrier and Final Driven Gear Replacement (A/T)
Remove the final driven gear (A) from the differential carrier (B). The final driven gear bolts have left-hand threads. Install the final driven gear on the differential carri ...
Vehicle
INFO button ► Setup ►Other ►Vehicle Set the off-road tracking feature and correct the vehicle position displayed on the map. Select an item. The following items are availa ...
Fuel Tank Draining
Remove the fuel tank unit. Using a hand pump, a hose, and a container suitable for fuel, draw the fuel from the fuel tank. Reinstall the fuel tank unit. ...