Honda Fit: Refilling Window Washer Fluid
Models without washer level sensor
Check the amount of window washer fluid. Look for 1/2 mark on the reservoir.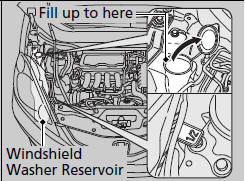 If the level is low, fill the washer reservoir.
Models with washer level senso
If the washer fluid is low, the indicator appears on the instrument panel. Pour the washer fluid carefully. Do not overflow the reservoir.
NOTICE
Do not use engine antifreeze or a vinegar/water solution in the windshield washer reservoir.
Antifreeze can damage your vehicle's paint. A vinegar/water solution can damage the windshield washer pump.
See also:
Engine Oil/Air Separator Installation
Remove all of the old liquid gasket from the oil/air separator mating surfaces, the bolts, and the bolt holes. Clean and dry the oil/air separator mating surfaces. App ...
ABS (Anti-lock Brake System)
NOTICE The ABS may not function correctly if you use an incorrect tire type and size. When the ABS indicator comes on while driving, there may be a problem with the system. While normal braki ...
Center Vent
NOTE: Take care not to scratch the dashboard or its related parts. Remove these items: Audio unit, without navigation system ('9-11 models) Audio unit, with ...