Honda Fit: Floor Mats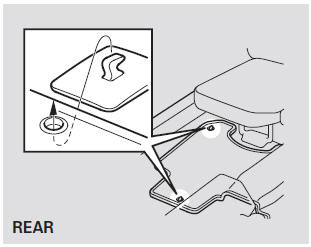 If you remove a floor mat, make sure to re-anchor it when you put it back in your vehicle.
A non-Honda floor mat may not fit your vehicle properly. This could prevent the proper operation of the folding rear seats and the passenger's seat weight sensors. We recommend using genuine Honda floor mats. Do not put additional floor mats on top of the anchored mats.
See also:
Towing Your Vehicle Behind a Motorhome
Your vehicle can be towed behind a motorhome at legal highway speeds up to 65 mph (100 km/h). Do not exceed 65 mph (100 km/h). Otherwise, severe transmission damage will occur. When purchasing a t ...
Alternator Brush Inspection
Measure the length of both brushes (A) with a vernier caliper: If either brush is shorter than the service limit, replace the brushes, go to step 20. If brush length ...
Startup Confirmation Screen
The Startup Confirmation screen is displayed when initialization has successfully completed. It is displayed every time you start your vehicle. Select OK to continue. NOTE: "OK" cannot be ...