Honda Fit: Floor Mats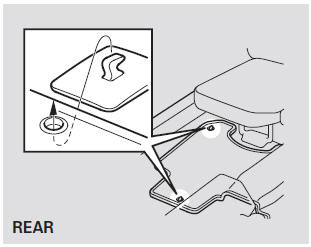 If you remove a floor mat, make sure to re-anchor it when you put it back in your vehicle.
A non-Honda floor mat may not fit your vehicle properly. This could prevent the proper operation of the folding rear seats and the passenger's seat weight sensors. We recommend using genuine Honda floor mats. Do not put additional floor mats on top of the anchored mats.
See also:
Power Mirror Actuator Replacement
Removal Remove these items: Mirror holder Power mirror Record the power mirror connector terminals location and the wire harness colors. ...
Center Vent
NOTE: Take care not to scratch the dashboard or its related parts. Remove these items: Audio unit, without navigation system ('9-11 models) Audio unit, with ...
Immobilizer System
The immobilizer system protects your vehicle from theft. If an improperly-coded key (or other device) is used, the engine's fuel system is disabled. When you turn the ignition switch to the ON (I ...