Honda Fit: Information Display
The information display shows the odometer, trip meter, engine oil life and maintenance service item codes, and other gauges.
■Switching the Display
Press the

(select/reset)
knob to change the display.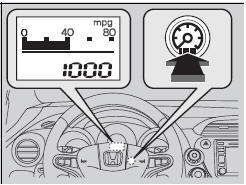 Each time you press the

knob,
the information display changes as follows: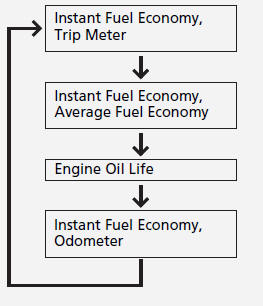 ■Odometer
Shows the total number of miles or kilometers that your vehicle has accumulated.
■Trip Meter
Shows the total number of miles or kilometers driven since the last reset.
■ Resetting a trip meter
To reset a trip meter, display it, then press and hold the

knob. The trip meter is
reset to 0.0.
■Average Fuel Economy
Shows the estimated average fuel economy of the trip meter in mpg (U.S.) or l/100 km (Canada). The display is updated at set intervals. When a trip meter is reset, the average fuel economy is also reset.
■Engine Oil Life
Shows the remaining oil life and Maintenance MinderTM.
■Instant Fuel Economy
Shows the instant fuel economy as a bar graph in mpg or l/100 km.
■Check Fuel Cap
Appears when the fuel fill cap is loose or is not installed.
See also:
Accessories
When installing accessories, check the following: • Do not install accessories on the windshield. They can obstruct your view and delay your reaction to driving conditions. • Do not install acc ...
Additional Information About Your Seat Belts
Seat Belt System Components Your seat belt system includes lap/ shoulder belts in all five seating positions. The front seat belts are also equipped with automatic seat belt tensioners. This syste ...
Rotor Slip Ring Test
Measure the resistance between the slip rings (A): If the resistance is within the standard, go to step 22. If the resistance is not within the standard, replace the roto ...