Honda Fit: Information Display
The information display shows the odometer, trip meter, engine oil life and maintenance service item codes, and other gauges.
■Switching the Display
Press the

(select/reset)
knob to change the display.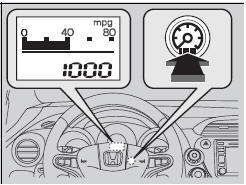 Each time you press the

knob,
the information display changes as follows: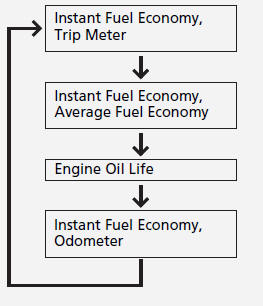 ■Odometer
Shows the total number of miles or kilometers that your vehicle has accumulated.
■Trip Meter
Shows the total number of miles or kilometers driven since the last reset.
■ Resetting a trip meter
To reset a trip meter, display it, then press and hold the

knob. The trip meter is
reset to 0.0.
■Average Fuel Economy
Shows the estimated average fuel economy of the trip meter in mpg (U.S.) or l/100 km (Canada). The display is updated at set intervals. When a trip meter is reset, the average fuel economy is also reset.
■Engine Oil Life
Shows the remaining oil life and Maintenance MinderTM.
■Instant Fuel Economy
Shows the instant fuel economy as a bar graph in mpg or l/100 km.
■Check Fuel Cap
Appears when the fuel fill cap is loose or is not installed.
See also:
Countershaft Inspection (M/T)
Inspect the gear and bearing contact areas for wear and damage, then measure the countershaft at points A, B, and C. If any part of the countershaft is less than the service limit, replace ...
Valve Body and ATF Strainer Removal (A/T)
Remove the ATF feed pipe (A) from the regulator valve body (B). Remove the ATF feed pipes (C) (D) from the servo body (E). Remove the ATF strainer (F) (two bolts). ...
Tailgate Handle Replacement
NOTE: Put on gloves to protect your hands. Take care not to scratch the tailgate or the related parts. Remove these items: Tailgate lower trim panel ...